MAR #1: EDWIN DROOD

As any fule kno, PUNCTUALITY IS THE SHADOW OF THE GODS. IMMORTALS ARE ALWAYS LATE. Therefore it is totally acceptable that this sprint update is late, let us never speak of it again.
The key thing from last sprint was our massive song and dance number about our UPCOMING MOBILE PORT OF CULTIST SIMULATOR ZOMG!
We've not yet announced its release date, but Cultist will be out on iOS and Android devices sooner than ya might think – in both English and simplified Chinese. Watch our channels for more details anon. Android users can pre-register (for a discounted price, too!) here…

…while iOS users (#TimApple4Lief) can simply sign up for Apple-specific notifications here: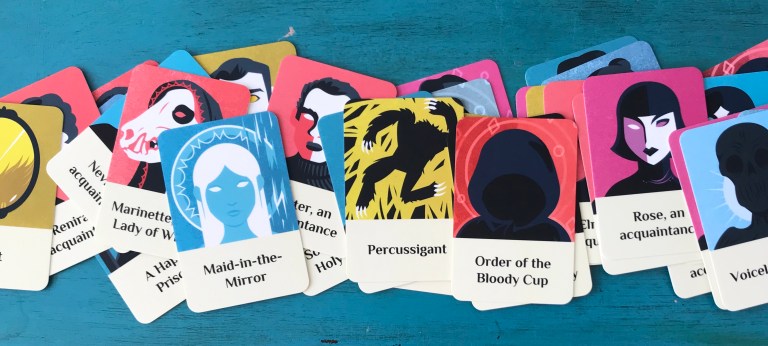 Aside from mobile, we've been pretty biz-y (a ha ha ha ha) with setting up some proper company stuff. New biz cards, new starter handbooks, a bunch of new roles we're hiring for… Weather Factory is growing for a bunch of new projects on the horizon, and it is a v exciting time. We officially hired Claire – of Brigid and newsletter fame – to be Employee #3, so cower before our aggressive +50% expansion strategy.
(I should mention that we're closing applications for our writer-developer position at midnight on 11th March 2019 and our two other open positions on Friday 15th March 2019, so if you're a Unity/UI developer, a full stack developer or a writer-designer with a penchant for resource-based narrative, get your emails in stat!)
Aside from all that, Alexis has been working on our promised tweaks to the way research currently works. It's one of the final pieces of Cultist's design we're not that happy with, so he's rejigging it a bit so it feels less punishing and RNG-dependent. That tweak will go live on the Steam beta branch later this week, so keep yer eyes peeled for the announcement on our social channels.
Claire's been getting to grips with being part of the team, as well as juggling our mobile announcement news, while Chris was in fixing a variety of bugs for us, from overbright and/or delayed glow animations to ginormous timers on high-res monitors to double click fixes.
Next sprint's a bit of a squib for Alexis and myself, who are off to GDC for a week of dev talks, dev meets and definitely no alcohol whatsoever. Claire will be holding down the fort in our absence so ALL OF YOU BEHAVE YOURSELVES. 'Til next time!