What I've been up to, mid-November: Hulk's Cock, Donald Trump, and Desk Leather
I have a monthly column now in gamesindustry.biz as well as eurogamer.net, and the deadlines coincide. So I'm writing them as companion pieces where I can. This month, they both have to do with the relationships between games and the real world.
The Rhetorical Effects of System Design, and Toilets
Meanwhile, I've been plugging on with Cultist Simulator! I've rebuilt the original prototype in Unity, and I've added features since. I want to share an alpha before Christmas, once I've fancied up the UI. I've been working with Martin Nerurkar for UI consultancy, and Catherine Unger for illustration (I'd enthusiastically recommend both of them) and we're nearly there: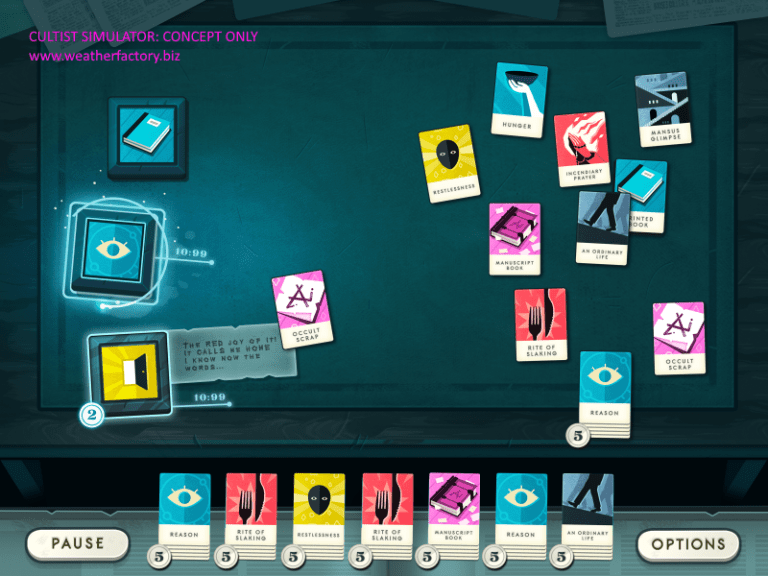 This looks very different from the prototype, but the same principles apply – you're combining Things and Stuff and People and Concepts to decipher texts or explore dreams or open tombs, and using what you find to pursue personal enlightenment and/or destroy the world. If it looks interesting, here's where you need to sign up for the alpha.
A bunch of non-interesting personal stuff happened which meant I can't make the panels I was hoping to do at the Media Festival in Belfast and the Wordplay festival in London. But I should still be able to do my talk at AdventureX at Goldsmiths this Sunday (the 20th, if you're reading this in the future).
Chin up. We've nearly made it all the way through 2016.