The Ragged Crossroads
Happy Friday, everyone! We've been planning the full BOOK OF HOURS production cycle this week – actually, we planned the whole Weather Factory plan to 2028, which I think you would really like if I could tell you anything about it. But it seemed like a good time to post an update on what we've been up to.
The Lucid Tarot
This is a project I started way back when AK was unwell, so work on BOOK OF HOURS was paused. Now he's healthy again (woot!), this has turned into a personal project of mine – BOOK OF HOURS takes priority, so I complete the cards I can in my 'spare' work time. But today I've reached an important milestone: all the Major Arcana cards are complete! 🎉
Check out the Lucid Tarot page for a few larger versions of the below, or bask in the joy of seeing pockets of colour appear out of an inky blackness. I intend to go back and zhuz a few of these just before printing, but to give you an idea of the full set: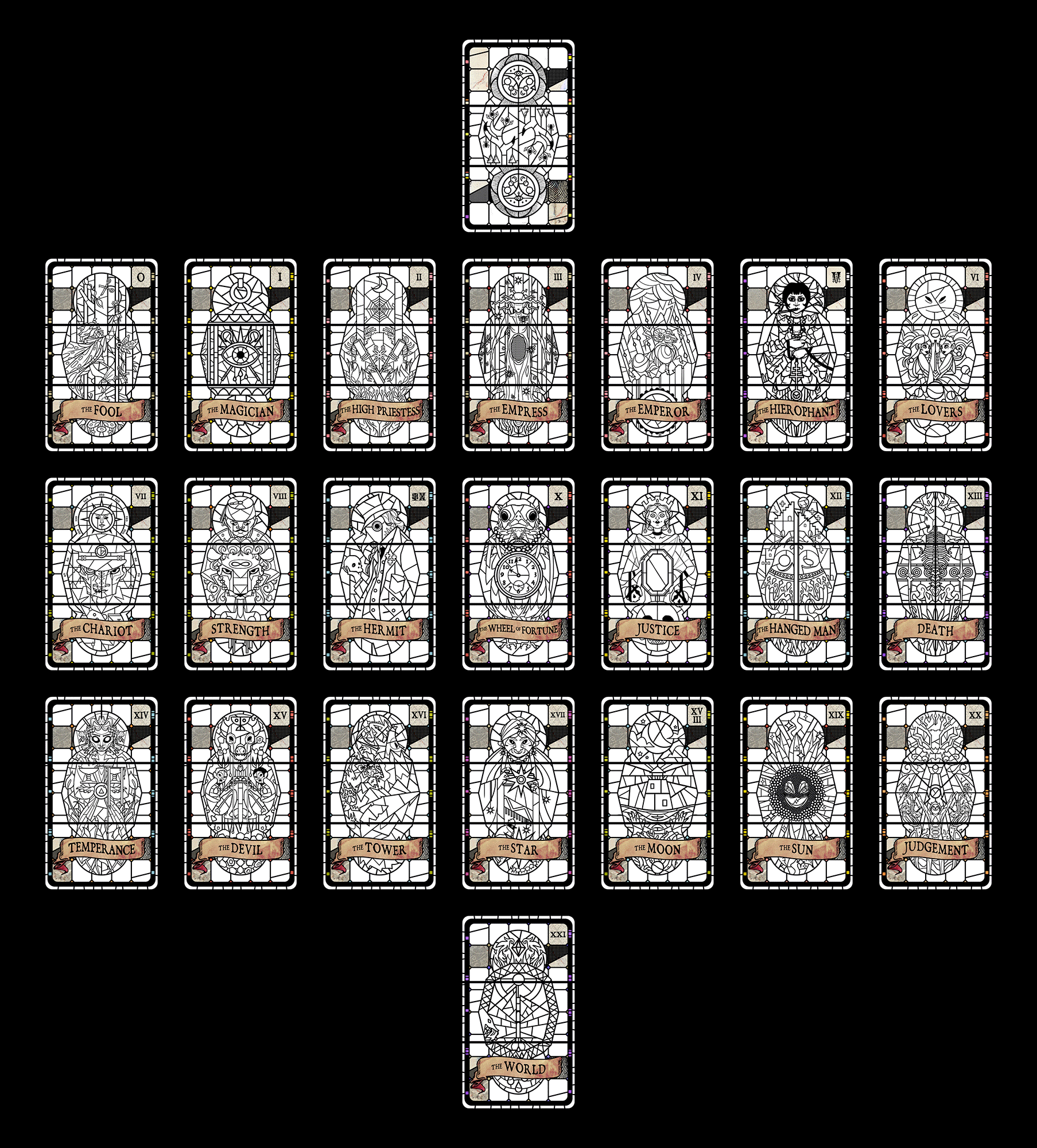 Each of these cards was designed, drawn and coloured from scratch, because obviously the Hours deserve as much love and attention as they can get. I wanted to put a more human spin on the Hours with this deck, as we already have a lot of gorgeous symbolism in the Tarot of the Hours. But what would you see in the chapel windows of the Church of the Bright Edge, for example? Or what would gaze semi-benevolently down upon the altar of the Temple Unceasing? I'd love for these to actually appear in the windows of Hush House in BOOK OF HOURS, but AK and I spent a lot of time talking production schedules this week and we have quite enough to get on with for that game already…
Minor Arcana cards are more numerous than Major Arcana (56 Minor, 22 Major) but they'll deliberately harken back to cards you've mostly already seen in Cultist Simulator. You've seen the 10 of Swords already, for example: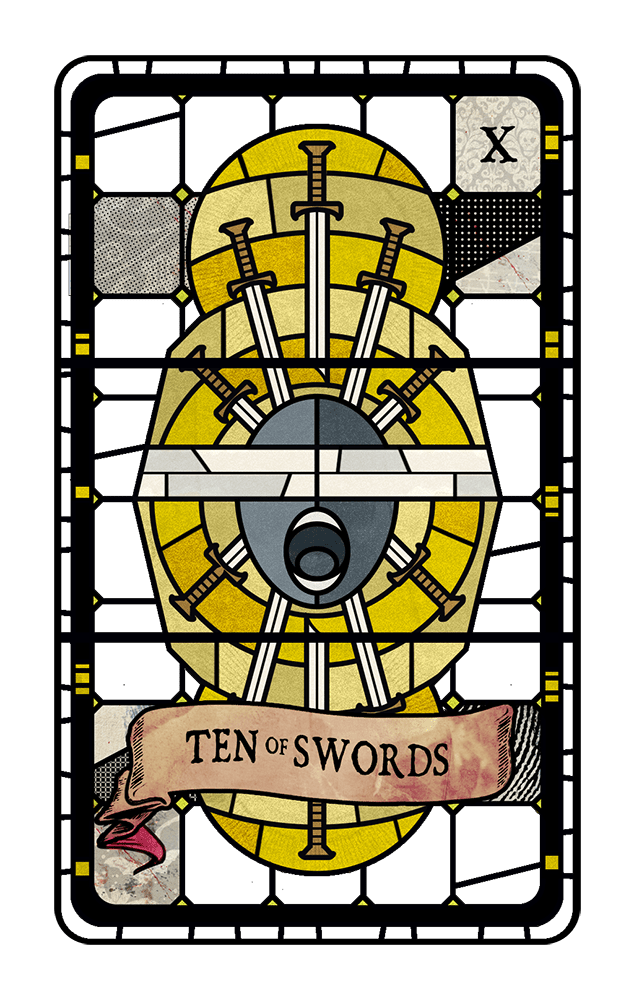 The 10 of Swords represents martyrdom, victimhood and 'bottoming out' – so the Incursus seemed like a pretty good touchpoint for that. You can expect to see a Lucid Tarot reimagining of your Cultist cards in the next set of these cards you see – anyone want to guess who I've chosen for the Page, Knight, Queen and King of Wands, Cups, Swords and Pentacles…?

BOOK OF HOURS
Among many other things, AK's been thinking about skills this week. When I turn around, I see the silhouette of his fabulous hair against a terrifying sheet of incomprehensible data, like an adorable kitten slightly obscuring your view of the sun exploding in the sky. It has tabs in it like this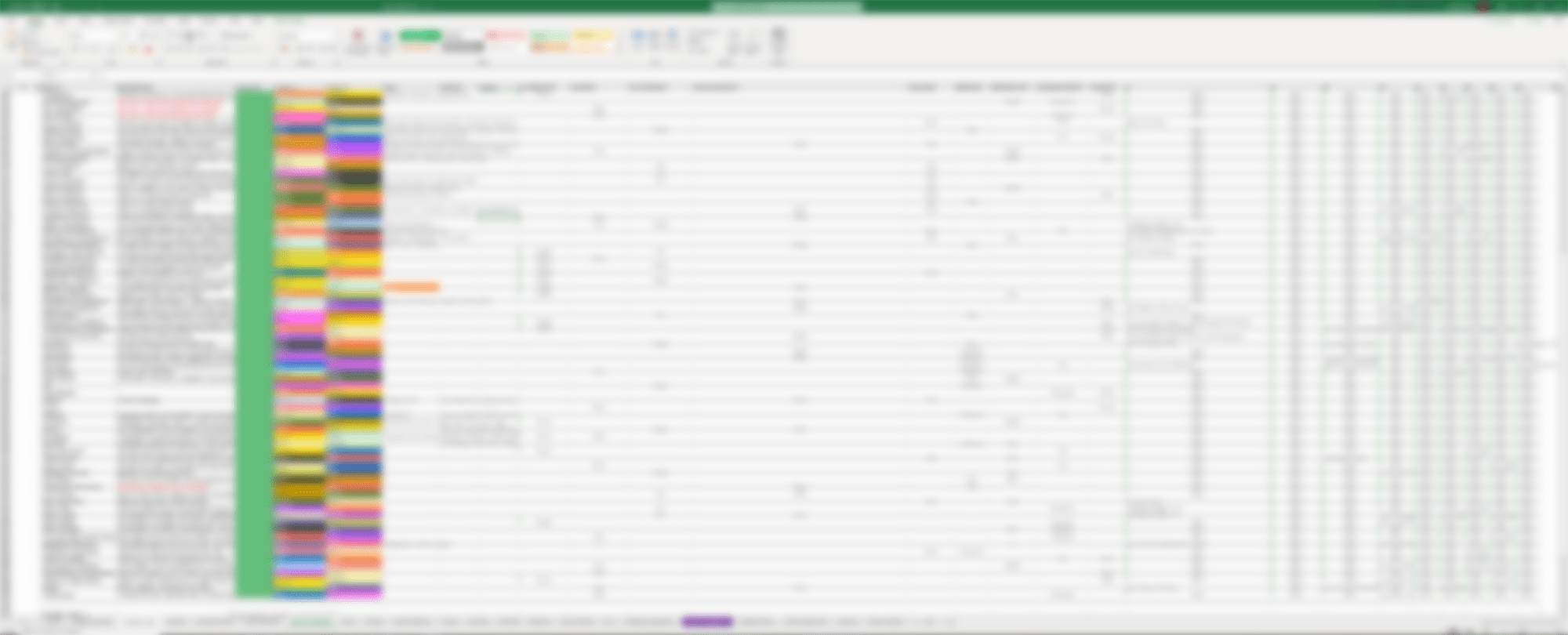 And notes in it like this

AK alleges it is all very well organised and self-explanatory. The game has been through a hell of a lot of reworking and rethinking since we first announced it, so it needs a bit of a monster framework. For example, AK says –
The Illumination Wisdom: "Mystical exercises to purify and illuminate the self and its surroundings." One of the skills in Illumination (and in Skolekosophy) started out life as the Four Regrets. This was an evocative name for a skill that deals with Edge and Winter. It referenced the 'Four Regrets' in an original CS tome, The Skeleton Songs (yes, like the podcast), and it was one of a list of skills (Three Exuberations, Nine Disciplines…) that sounded nicely esoteric. And it fitted into an elegant schema for crafting rarefied things about light and knowledge.
But when I went back to the skills list after some time away, I realised it's hopelessly confusing to have Four Regrets at level 5, and Nine Disciplines at level 2. I didn't want to change the whole scheme, so I tried out things like Crossroads Regret and Ninefold Practices. The numbers were still in there but less confusing.
But Secret Histories stuff balances rather carefully between the allusive and the incomprehensible. If I call a skill 'Flame Enchantments' that's boringly on the nose and there's no exploration to enjoy. But if I call it 'Articulations of the Laminar Secret' it sounds great, but it's bloody hard to work out what the skill actually does. Especially when you're crafting, like, a Wild Surmise into an Earthquake Intimation, or something.
So I went back again, and I worked it properly into our web of references. So Four Regrets has ended up as Ragged Crossroads (alongside Disciplines of the Scar and Meniscate Reflections). That would still be absurdly bewildering for anything game that isn't about plumbing occult knowledge in a secret library. Even in BOOK OF HOURS, they're the most obscurely named skills, compared to Drums & Dances or Lockworks & Clockworks. But anyone who's dug into the lore – veteran, or newb ten hours in – will be able to guess which Hours they connect to, and once they see the items in the game, they'll have enough to start figuring out what the hell they actually do.

We have a few other announcements in the wings – something Lady Afterwards related, for instance – and we're moving towards monthly builds of BOOK OF HOURS like we did with Cultist Simulator. So expect more art, updates and LORE in the near future. For now, AK and I are going on a long-awaited holiday where we will curl up next to a roaring fire and wake up with sheep staring only slightly ominously at us through our rented cottage window. See you in a week!