The Beginning of the House Proper
"The Curia used to issue gloves and slippers of soft leather to protect the books and premises. Patrons were often asked to remove their shoes. Pause a moment and listen to the Histories."
Don't worry everyone we finished the game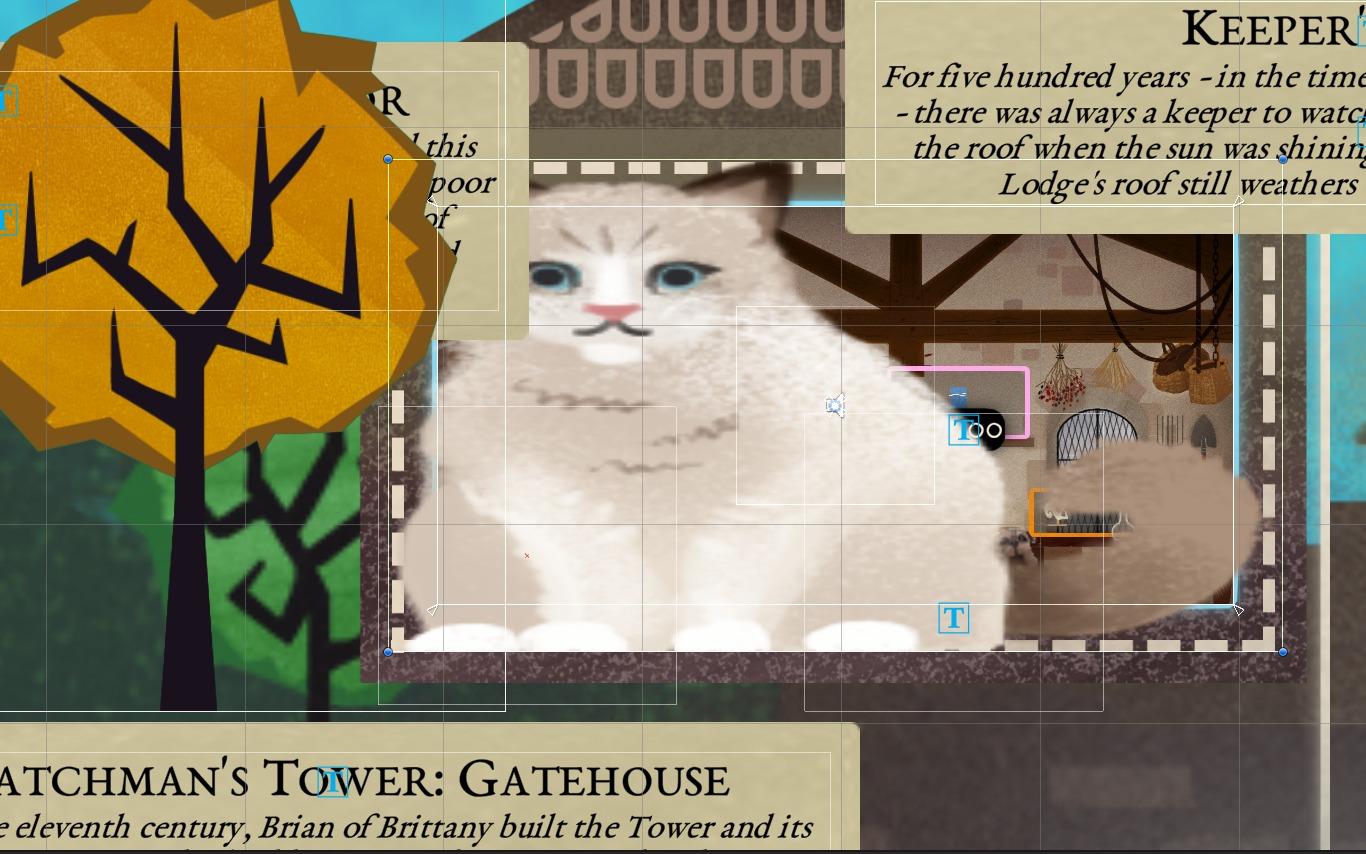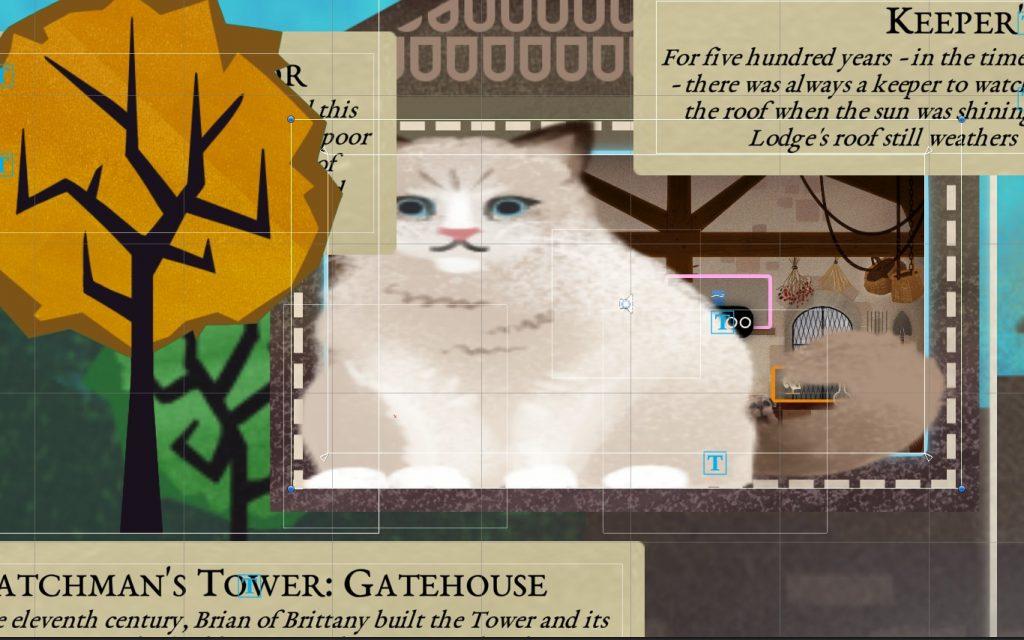 AK said he wanted a 'Generic Thing Image' ('Thing' being our development term for any movable object you can place on top of other things, like candlesticks or mounted skulls or alembics), I gave him a Generic Thing Image, and he's all, oh, that looks insane, why is our game full of gigantic ragdolls, and I'm like, babe, leave the art to me.
(After much energetic debate, beta players next week will notice that the Generic Thing Image has been replaced with a much less interesting triangle with a question mark in it. Le sigh.)
In more joyous news, I have loads of new art to share with you along with our beta milestone (scroll to the bottom if you just want to read about that). We received some more beautiful element art from habitual element-er Sophie H. Unlike the previous portraits we've shared (who have been assistants you'll meet in Brancrug Village), the following are all Hush House patrons – people who'll appear from time to time with a request for a book, help with lore, or simply checking up on you.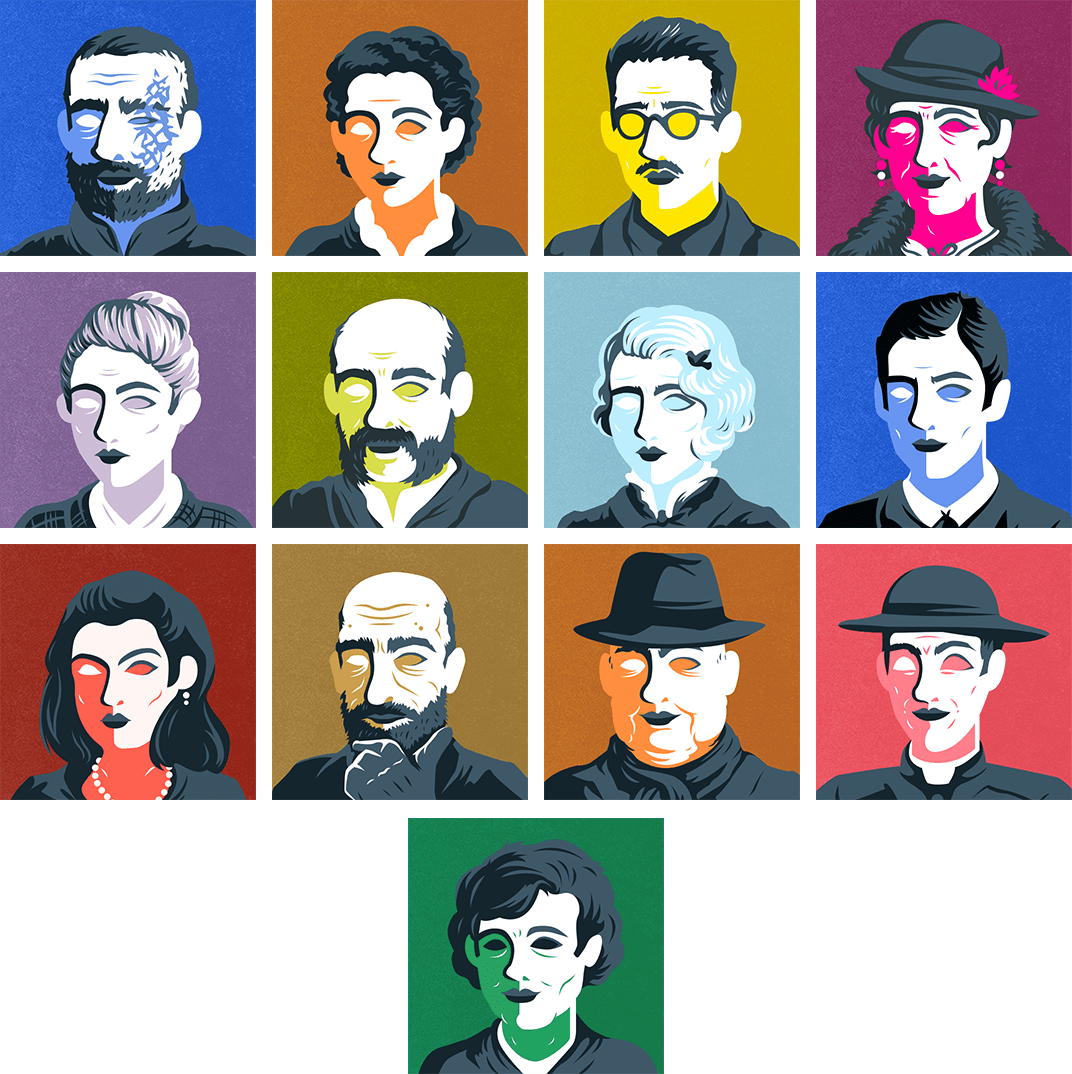 You've met a few of these characters in Cultist Simulator, and a few of them have even been physically represented in The Lady Afterwards. Any guesses on who's who above?
Meanwhile, Adrien and I have been hard at work drawing new rooms. Adrien's drawn over 70 now, which is officially nuts. Here are some of my favourite recent ones, starting with a room in which nothing bad has ever happened (the destroyed room at the top of the Crucible Tower) to the peaceful whimsy of the Lower Cliff Path:
Oh, and just to whet your appetites on something totally banonkers that Adrien's working up now – anyone have an idea of what THIS room is?

I've also been tweaking the background art, redrawing Hush House (it's now much sharper and those dotted lines line up really nice, a la Wes Anderson perfectionism) and the world's trees. We now have seasonal variants and animations, so you'll see the year change (and the resources you can nab from it) over time. Behold the four basic starter animations…
We've added some new books to the game, too! Here's a selection of covers and how they might look lined up on a shelf: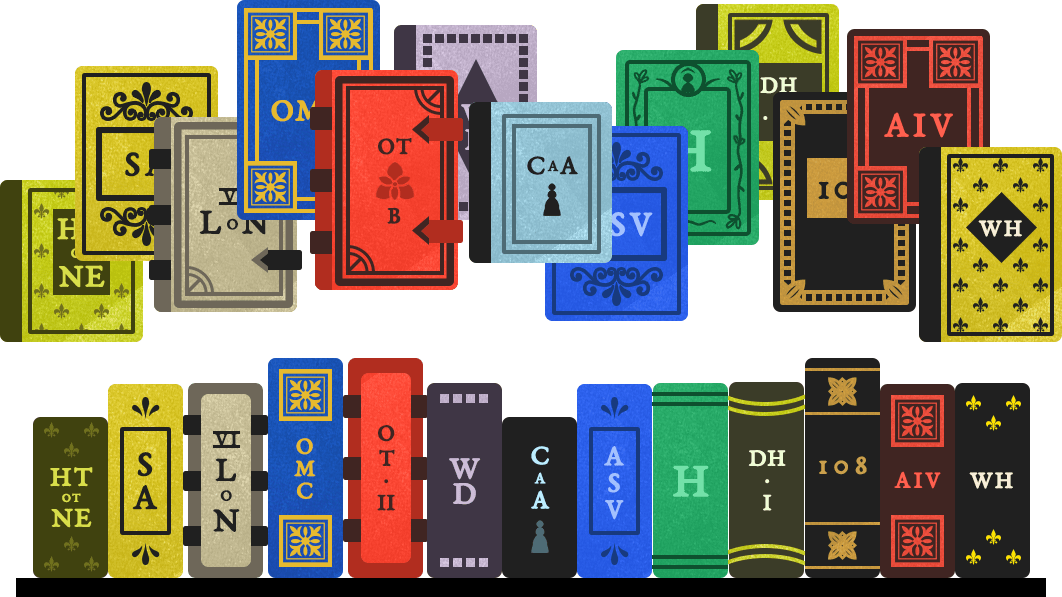 I leave you with the news that BOOK OF HOURS' beautiful soundtrack composed by Canadian soundstress Maribeth Solomon and co. is finalised! I can't share the final music with you yet, but I can say it's double the length of the CS soundtrack (15 tracks in CS, 31 in BoH) and pique your interest with our nearly final track list…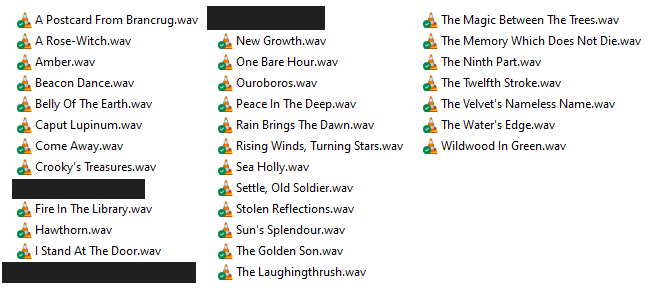 Finally, the beta
"Long long ago, this was a forest. Now it's the place where the sea ends and the world begins (or the other way around)."
We're equal parts excited and frightened to be admitting the first batch of beta testers into BOOK OF HOURS next week. Thanks to the three hundred or so of you who emailed in telling us you've spent 8,0000000000000 hours in Cultist Simulator and have named your first-borns 'Propsy'. Everyone who's been picked will get an email next week with their Steam keys – if you don't get an email, don't worry! We'll be adding new bunches of beta testers every month, so you have a new chance to be selected with every refresh of the moon.
AK wants you to know that CURIA is the first beta release, named for the Curia of the Isle, the scholars who restored the House in the eighteenth century after the line of Barons Brancrug died out. One of the themes of BOOK OF HOURS is that the same things keep on happening, but they keep on happening differently (de Camp: 'The notes are always different, but the tune stays much the same.') One way or another, the House and the Isle have been abandoned again and again over the years, but eventually, someone always turns up to chase the shadows out. This time, of course, it's you.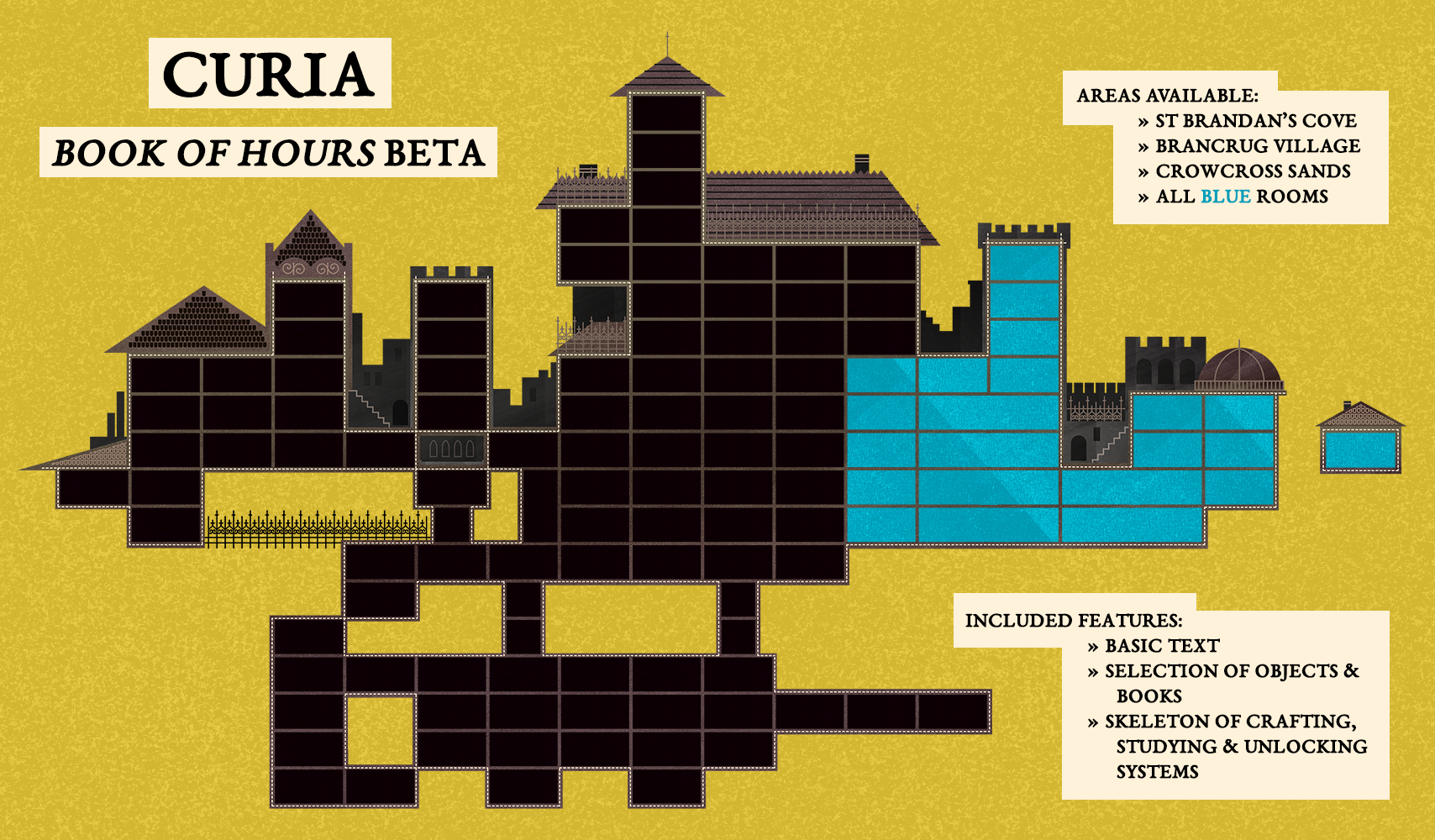 What's in CURIA? A number of rooms; a multitude of objects and books; and the skeleton of the crafting, studying and unlocking systems. CONSPICUOUSLY ABSENT are most of the rooms (you can go as far as the Grand Ascent, the staircase that serves as the spine of the House); a lot of the actual text (FNORD, as veterans will know, means "AK hasn't written this"); lots of UI work (it's still quite primitive) and most of the little surprises, contextual clues and unexpected combinations which will make the crafting system come alive.
The crafting in BoH is already more complicated than the one in Cultist – depending on which way you reckon it, there are maybe sixty recipes, maybe two hundred – but the balance is all over the place, and it still feels quite bare-bones and unfriendly. The skeletal metaphor again. Let's say CURIA is the skeleton's head and torso. BARONIAL, the next beta, will add more bones, and we'll start grafting on the flesh and then the skin. Skin goes on last. After the eyes, not before. You don't make that mistake twice. NO THIS IS A NICE GAME.
We're still accepting beta tester sign-ups, if anyone missed the call. See a hundred or so of you next week, and fingers crossed you like what you see!