MORE.
If you read our State of the Factory post, you'll know that we've had a good year, and that we've decided to grow a little. As of this week, Weather Factory is officially no longer exactly just 'Lottie and Alexis in a flat':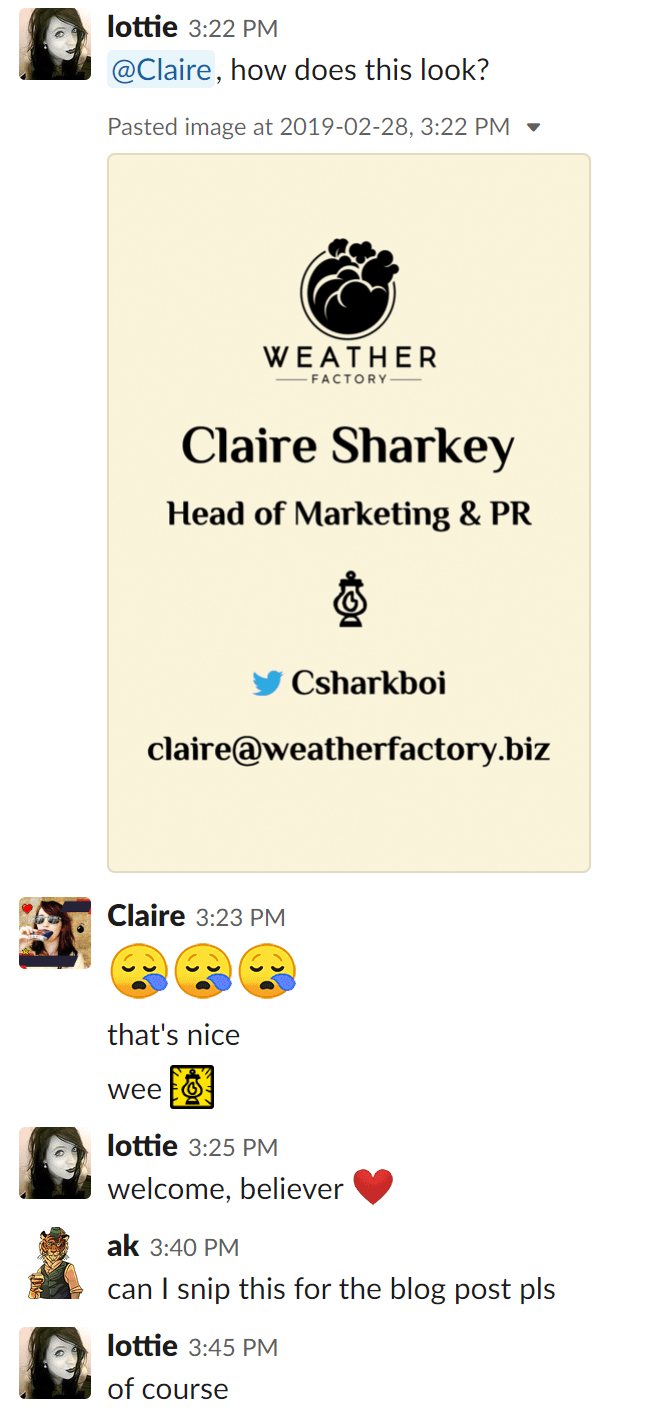 The brilliant, indefatigable and possibly notorious Claire Sharkey has already been handling marketing under the Sharkbit banner for the last few months. She's done such an extremely fine job that we've made her an offer, and she's now signed up as the third, Lantern-aspected head of the Weather Factory hydra. Find her at industry events, and you'll see that the other side of her business card is even more striking.
If you've been talking to the @factoryweather account recently, you've actually been talking to Claire. Please join me in wishing her a resounding welcome.
But Weather Factory is still growing, and we're going to need a bigger team to get us where we want to go. So here are links to three roles we're hiring for, from today, to work on our two upcoming projects.
Now Hiring: UI-Focused Unity Developer
Now Hiring: Full Stack Developer
If you think this is you, please drop us a line. If you fit the essentials but not the preferables and are thinking about dropping us a line, drop us a line. We're a new, majority female team with a bee in our collective bonnets about being inclusive and nice. Whatever your background, gender, ethnicity or favourite Pokemon, we'll work for you to be happy at Weather Factory.
The links below should give you an idea of what it's like to work with us.
Cultist Simulator Retrospective
Talk on running a studio, GDC 2018