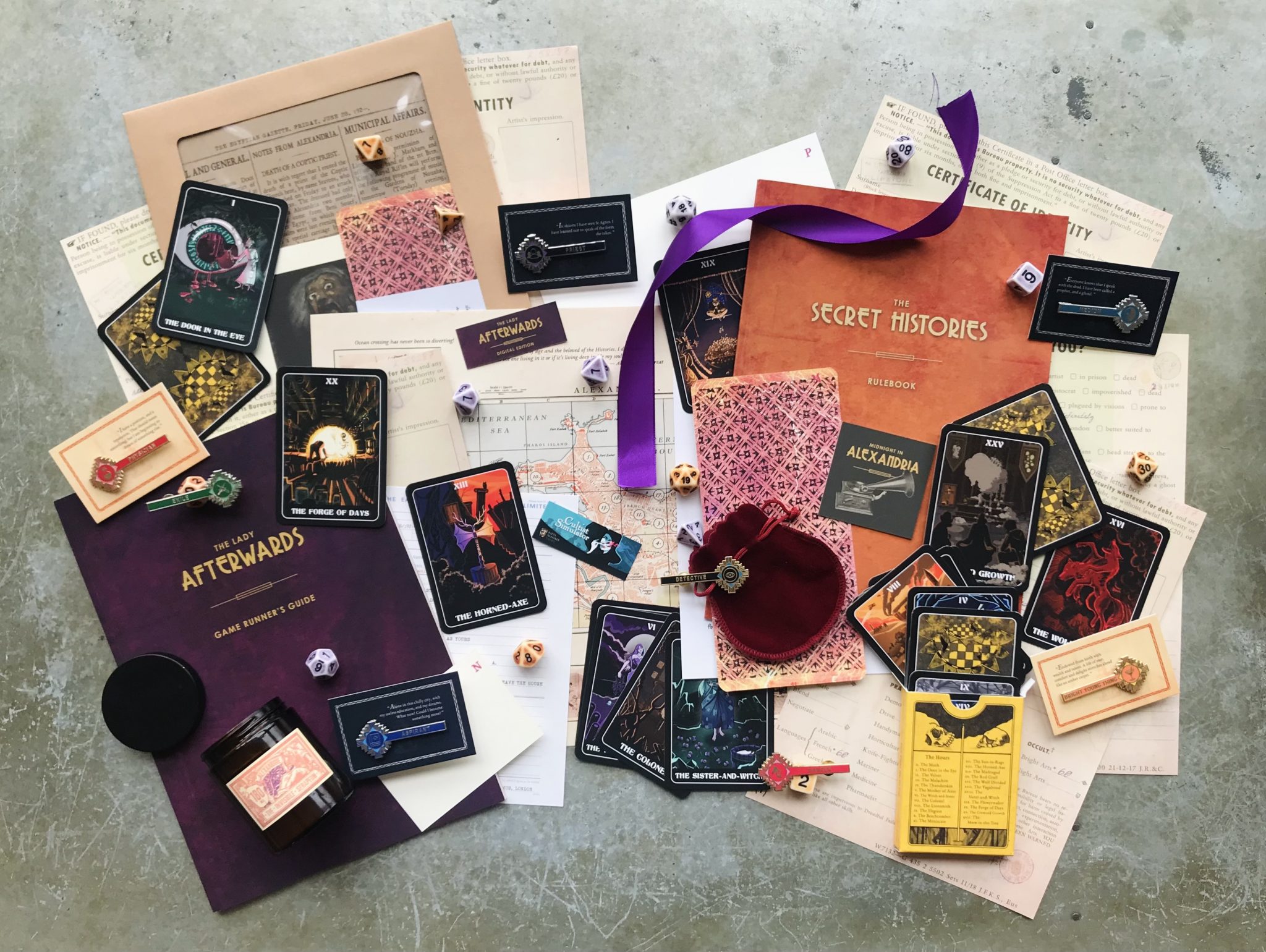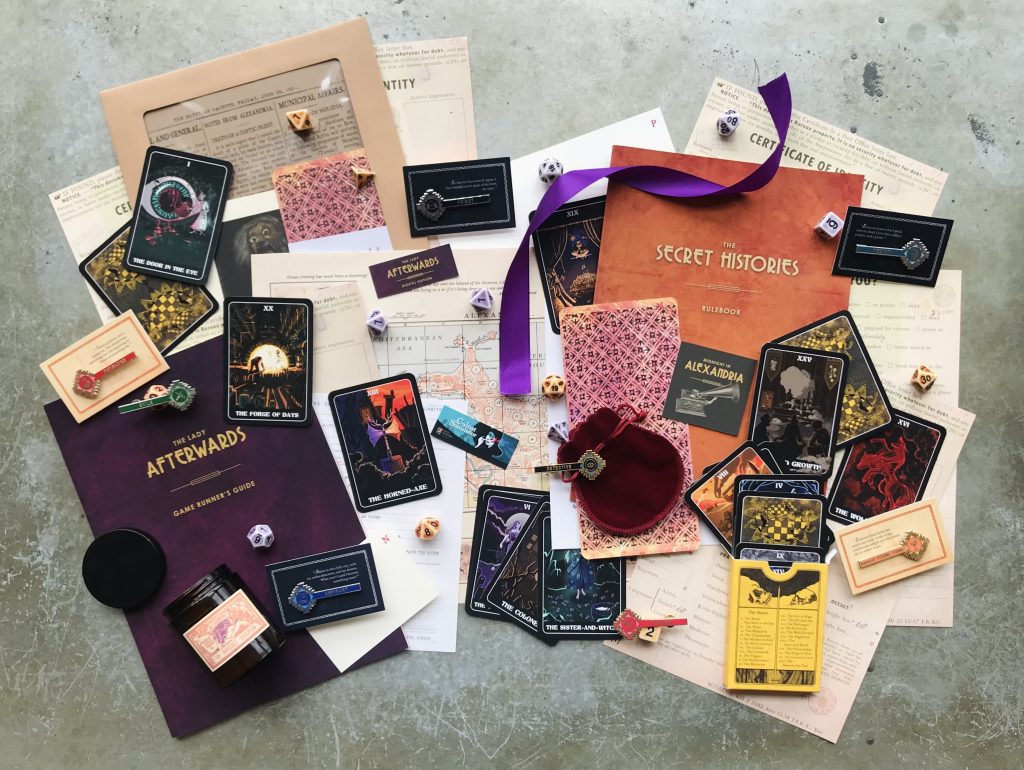 THE LADY AFTERWARDS OUT NOW!
….but it SOLD OUT IN 60s! So we've offered pre-orders for 500 future boxes. Pre-order yours here:

The Lady Afterwards is a non-linear, combat-light, story-centric tabletop RPG for 2 – 8 players set in the Secret Histories – the world of Cultist Simulator – where hidden gods watch over a Lovecraftian world of apocalypse and yearning. It's been designed to offer an accessible experience to people who've hesitated to played TRPGs before, but to offer plenty of meat to tabletop aficionados too.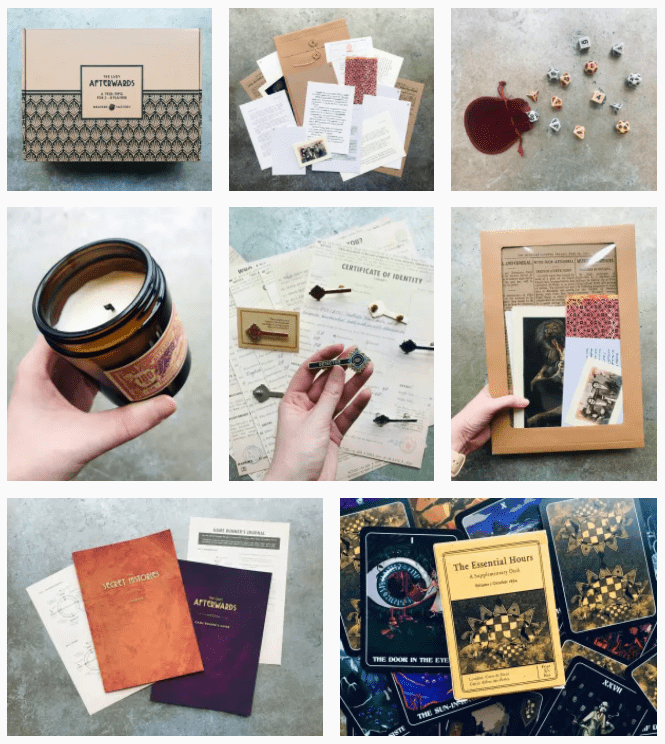 Track down Audrey Leigh Howard, a woman of high standing and dubious morals. Investigate a suspicious gentlemen's club. Abort a plan. Avert a crisis. Or – depending on your choices – let the blow fall.
Each box includes:
★ The Lady Afterwards Game Runner's Guide, a ~50 page TRPG scenario set in 1920s Alexandria
★ The Secret Histories Rulebook, a ~30 page primer explaining the mechanics and perils of the game
★ 18 hand-stamped clues, including telegrams, lovers' notes, photographs and more
★ "The Essential Hours" pocket tarot deck of 23 Major Arcana cards
★ Eight customisable double-sided character sheets, each with personalised questionnaires and connections
★ Eight art deco character pins in silver and gold with backing cards and helpful quotations
★ A double-sided Game Runner's Journal, to keep track of players, game-states and evidence uncovered
★ A beautifully-scented black opium candle to evoke the Invisible Serapeum, a mythic library
★ A full-colour A3 map of contemporary Alexandria, with real 1920s photographs
★ Two sets of antique TRPG dice in a velvet dice bag
★ A Steam key for Cultist Simulator, for the unspeakable instance where someone hasn't played it yet
★ A year-long 10% discount token for our merch shop
★ Access to a custom-built mood-music playlist of 1920s songs
★ A full digital edition of the whole game, so you can play with people online as well as in the real world
It all comes in a custom-made 1920s recyclable box, padded with black paper. Watch AK and myself doing a chill candle-lit unboxing and talking design here.
For anyone who misses out on the boxed edition – or for those of you who prefer digital TRPGs only – we're releasing a digital version of The Lady Afterwards next month, on Thursday 18th November, on our shop, Steam, and various digital RPG shops like DriveThruRPG.
Tabletop Fest
We're releasing The Lady Afterwards in line with Steam's Tabletop Fest, where Cultist Simulator and all DLC is 40% off. Beloved CS-master Systemchalk is doing one of his epic broadcasts on our store page right now, we released some free Lady Afterwards-style Call of Cthulhu and Dungeons & Dragons character sheets, and Steam invited us to make one of their new-fangled animated Game Profiles too. Check it out in the Steam Points Shop!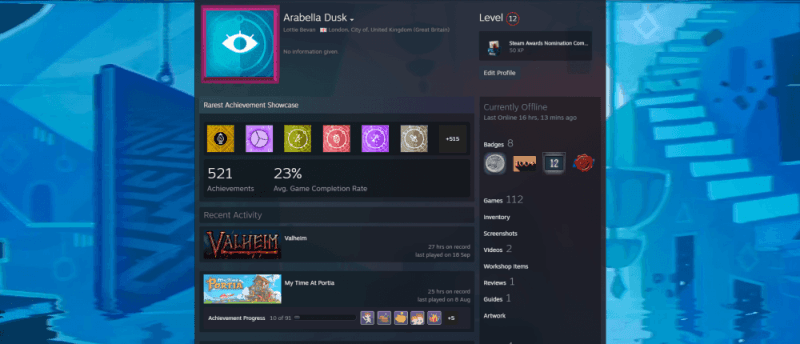 We're also running a weekend-long developer AMA on the subreddit, live now until 6PM BST on Monday 25th October. AK and I will be there at the start and the end in person, but will answer whatever questions we can in between as well. Hope to see you there!