OCT #2: VERNE

Happy November, all! This sprint was deliberately left light, to accommodate the fallout from our Dancer DLC. I'm pleased to say Alexis, Chris and Fraser are badass so there were only a few bugs to fix! Go team code go.
We took a much needed few days off in the first week, where we went to Bristol and bumbled around in bright brisk autumn days looking at bridges at eating too much. On our return, I started work on a Church of Merch postmortem, and with the help of our translator Pavel got stuck back into localisation: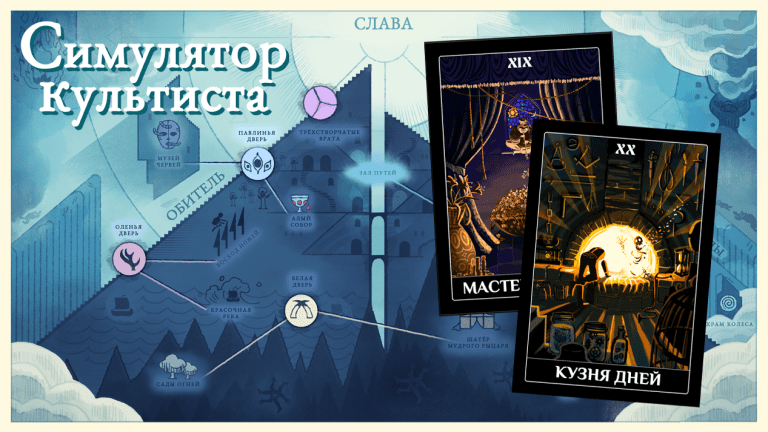 Weird, huh?! In the meantime, Alexis and Chris fixed a bunch of issues, whose headlines are:
BY THE POWER OF THE WATCHMAN, NO MORE FADED TEXT NONSENSE
No longer will you receive infinite copies of The Viennese Conundra, Kitling Ripe and the Moldywarps' Grave or Rapt in the King (sorry)
No longer will Detectives be blocked by the misfortune of drawing a Pawn rather than a Troublemaker
You CAN now gift the Bone Flute to Followers. No sniggering at the back.
Corpses, when raised, are no longer ungrateful enough to rebel…
…or to forget they were Followers if they died while wounded.
No more borked text during one of the Dancer's Sending Expeditions
Minor hint text updates, graphics updates & design tweaks that are too smol and/or boring to detail here 😘
You should see some of these in-game already, and all of them by the next update on the main branch.
I'm also now able to say that I'm one of this year's BAFTA Breakthrough Brits, which means I get to hobnob with successful devs and insanely have articles on the BBC and stuff?! Nuts! There's a big party next week and I've asked a bunch of devs I have a respectocrush on to mentor me, so we'll see…

Anyway, back to reality here. We're waiting for a better window to release Maribeth Solomon's wonderful Cultist OST, but we have our final tracks ready and I'm attempting to design an attractive-looking cover as we speak. November/December is sadly a dreadful time for an indie to release anything, so better safe than sorry, I think.
Bit of a light one this sprint, but we shall be back in force next update. We're having a planning sess at the start of next week to confirm dates for our next major releases, so take a look at the roadmap for a sense of where we're going next. Alexis is looking doomedly at me as he prepares for his nine year old's birthday party tomorrow, so that's the first thing…