NOV #1: WHARTON

Happy not really anything month, everyone! We've had a v busy sprint (the most important part being I met Stacey Dooley at the BAFTA Breakthrough Brits party, obvs), so let's get down to it.
The key thing this sprint was a much better idea of what we're doing with Christopher's Build. I've updated the roadmap so you can see the sprintly plan (new sprint names woooo!), but the headliners now included in Christopher's Build are as follows:
Free updates!
Apostle victories: three new 'Tier 2' victories for each of our current main victories (Grail, Forge and Lantern), which'll sic a LONG on you and make your life generally more miserable than it was before. #marketing 


New Expeditions: fixing some issues with mid-game item grind, and adding a few new ones into the mix. See below! 


Some new HQs: not a big change – we may do more later – but making HQs more important in-game, and adding a couple new ones in rather than your glamorous Temporary HQ.
Paid DLC!
Cultist Simulator OST: including 15 remastered in-game tracks (some very similar, some quite different), dreamy cover art and a world-famous award-winning Erhu master, because of course that's what we were missing. 


We're still planning to release Christopher in January #2, but we'll announce the release date nearer the time. Eagle-eyed believers among you may have noticed this means we've pushed back our paid Priest Legacy DLC, but don't worry! It's just been moved, not removed. We've also decided to spend the time we originally budgeted for updated research on these Apostle victories. We may update research in a later sprint, but TBD!
Anyway, as an early amuse-bouche, here's how the new Expeditions/HQs are shaping up…
| | | |
| --- | --- | --- |
| | | |
| Key-Hunter's Garret | The Kusnetsov Endowment | Congregation of St Felix of Schuren |
| "…In a snowy street, in a crooked house, in a high and rattling attic, we have learnt that an eccentric hunter of imaginary keys has established a tiny trove of odd books." | "Prince Kusnetsov gave one fourth part of his blood-soaked fortune to the establishment of a Department for Eschatoloy at this provincial university. The staff have grown peculiar, now…" | "A Nonconformist enclave of a heterodox sect of a Calvinist offshoot, tucked away in an odd corner of the city. They belt out hymns with unsuitable gusto, in a throat-scraping language that is very much not quite Latin." |
| | | |
| Gwaer Inn | Forman House | SOME HQs |
| "On a crumbling cliff above a grey sea, the Gwaer Inn squats, until the day the sea comes for it. It receives few guests – fewer since the owner closed his notorious library to visiting scholars." | "Filip Forman, the helminthologist and antiquarian, did all his best work here at the family home, until the day his subjects escaped. The infestation was destroyed, but Forman, they say, walks the halls to this day…" | Coming soon! We have plans. |
We're still planning to release our final bit of Cultist DLC in April 2019, Franklin's Build, but we haven't yet confirmed what'll be in that. More info nearer the time!
Alexis has primarily been, y'know, planning the whole future of Cultist Simulator, as well as working on the new Expeditions via a diversion with Lyrositor from Discord, aka Lyro of the Frangiclave (an active member of the community who's made some cool tools for Cultist already). Lyro's been working on some better tools for future!Cultist Simulator, and I can confirm that: he is a Good Egg; occasionally has pancakes for dinner; and Alexis keeps huffing part happily and part infuriatedly that we hadn't roped him in earlier.
Aside from those icons above, I've been updating the Church of Merch with NEW STUFF, including plain-paper versions of the notebook, updated/cheaper shipping, and tracked shipping options should you wish to trace your parcel over yon distant shores. I'm gonna be including minor collectibles in each parcel I now send – one of each secret society – so I guess you're just all gonna have to buy at least nine things from me to get 'em all.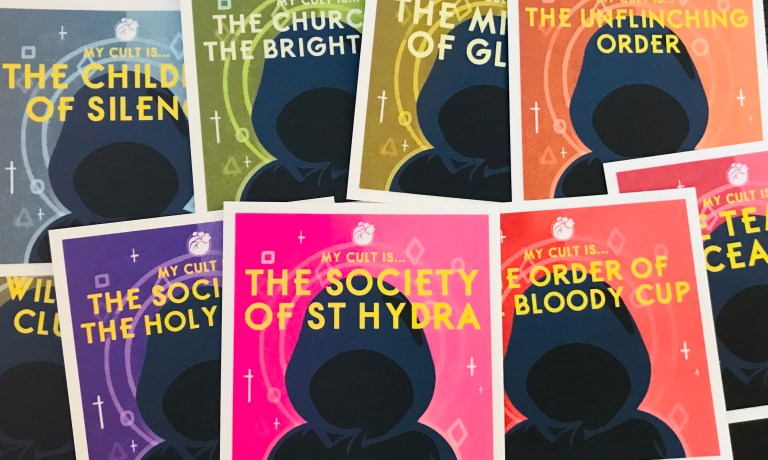 I've also (finally!) found a new place for our women in games jolly Coven Club, so we'll be taking over a snazzy pseudo-flat in Angel for the next few months. I may buy us all hats.
Next sprint we'll be starting work on these Apostle victories, as well as running our delayed design stream on LESSONS LEARNED on Thursday 22nd November at 4PM GMT / 8AM PDT. Hope to see you there, but as ever, I'll post the recorded version up on YouTube for those of you who are sensibly not yet out of bed.
I leave you with news that you might want to watch the Church of Merch in the last week of November, and I have a really big bruise on my foot from doing art. Don't even ask.
Til next time, beloveds!