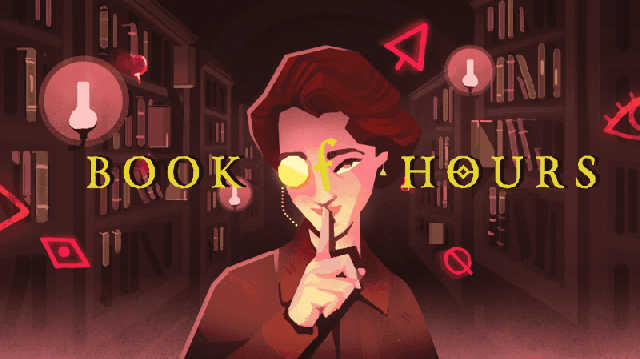 MAY #2: KNOWL


Hello, Believers! This sprint was LAUNCH SPRINT, meaning we've been working our lil' culty butts off. First things first: lots of new stuff to shout about!
Our two final pieces of DLC are live, and should be automatically in your library, for free, if you're a Perpetual Edition owner. For newer Believers, you can also now purchase the Anthology Edition, which gives you ALL THE CULTIST STUFF @ 15% the whole caboodle. Plus, it's pink and sparkly. What's not to like?
As Cultist is literally ONE YEAR OLD TODAY (👶), we also made a round-up birthday trailer to celebrate. Click below to watch! And h/t Claire and Vanessa, who did most of the heavy lifting!
This leads me on to my final new thing this sprint. If you've watched the above, you'll now know what Weather Factory are working on for their next game. Yes, it's the worst kept secret in experimental indie games! We're making:
THAT DAMNED LIBRARY GA
Um I mean
"You're in a familiar room with the rain rattling on the roof and the firelight playing on the old leather spines of the books. But also there's a storm getting up outside and the sea's smashing on the rocks and if you open the wrong book you might see something you really regret."
We'll be running a Kickstarter for BOOK OF HOURS later this year, so look out for news! Sign up to our (shiny, updated) mailing list for updates, and wishlist the game on Steam. While you're waiting, here's Alexis's first ever interview about BoH on IGN.
Right! Finally, I can talk about the work we actually got done these past two weeks.
Alexis has been tweaking Ghoul content and fixing final bugs (minor text changes, issues with Funds at Oriflamme's, etc). Marc's helped with a great deal of bug fixing (crashes, text display, wounded Risens, Steam falling over at launch, overly tempting Bureau Files…) as well as making some rather visible edits to the title screen…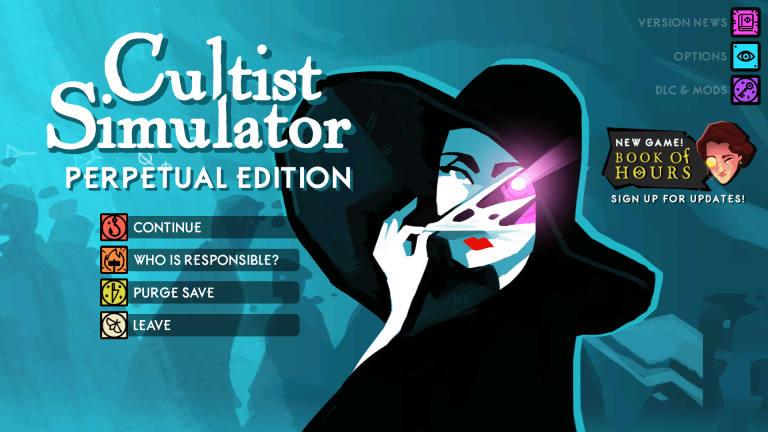 Yep, not only does this show you what DLC you have installed, but Marc's very own Frangiclave is now enmeshed, making it easier to install and develop mods. Fuchsia's head's there making it easier to remember BOOK OF HOURS and how great Catherine Unger is at art.
Claire's been getting us covered by little ol' IGN (something I've been trying, and failing, to do for a year), as well as managing all the behind-the-scenes stuff you need at launch: digital ads, press outreach, streamers and keys, our social countdown… If you've heard that we're doing anything in the past few weeks, it's probably down to her.
I, meanwhile, have been getting my art on. Because finally I can produce the definitive version of the Beginner's Guide, now that we're content complete…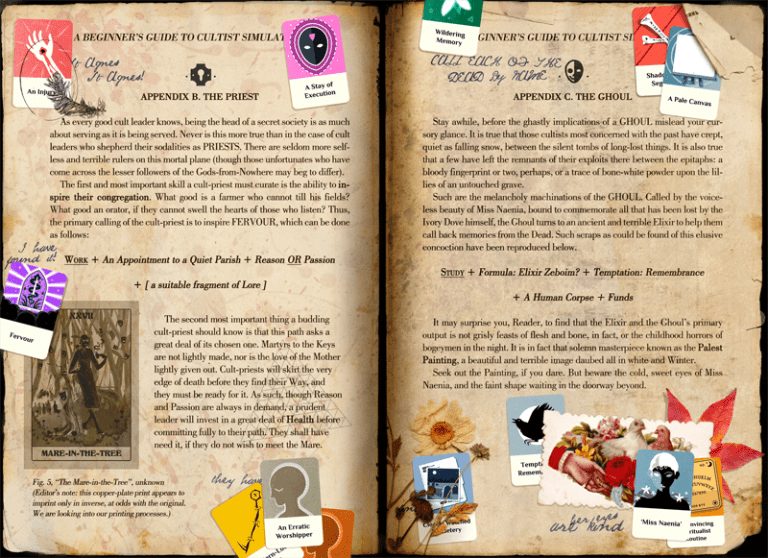 …and Ghoul needed all its art doing, of course!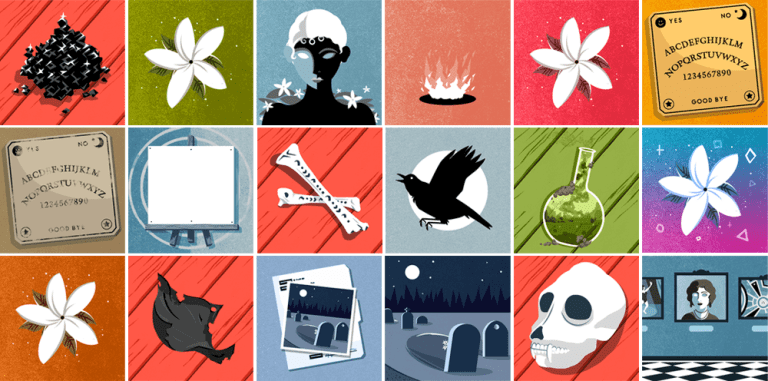 Anyway, this post has gone on long enough. Next sprint, a MYSTERIOUS FIGURE arrives at Weather Factory's doorstep at the start, and I go home for my mum's birthday at the end. It's like a Harry Potter novel, if Harry were called Lottie and wasn't magic.
Thanks for sticking around for the past year, everyone! See you on the other side of Nowhere.