Matters of Shadow and Substance
"Yes, dear. Without all those gods in darkness, I don't imagine we'd see much Sun anywhere below Eternity. Sleep softly."
— Aunt Mopsy
Happy Halloween! We're back from holiday, reopened the
Church o' Merch
(get your orders in now-ish if you're buying Christmas gifts and don't live in the UK) and have some midnight gifts to share on this most spooky of days.
Trading Cards are Go
We've just released Steam trading cards for
BOOK OF HOURS
along with badges, backgrounds and emoticons in the
Steam Points Shop
! (Sorry, GOG players – we'd do the same on GOG if they were a thing.) Comment here if you're the first person to collect all trading cards or the elusive, shiny foil badge of the Librarian of Hush House.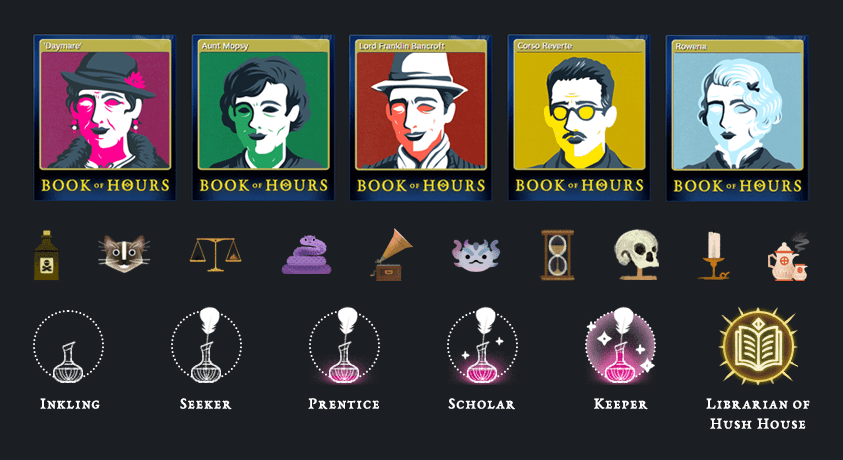 Soundtrack coming soon
I'm listening to it now! Mickymar Production's haunting soundtrack will be coming to Steam, GOG, Spotify, YouTube, Apple Music and… probably some other places before the end of the year. It's a rich, lustrous OST more than double the size of Cultist Simulator's, and the perfect accompaniment to cold winter days, studying ancient grimoires and/or trying to get your pet snake to stop gnawing up the furniture. Good luck with that.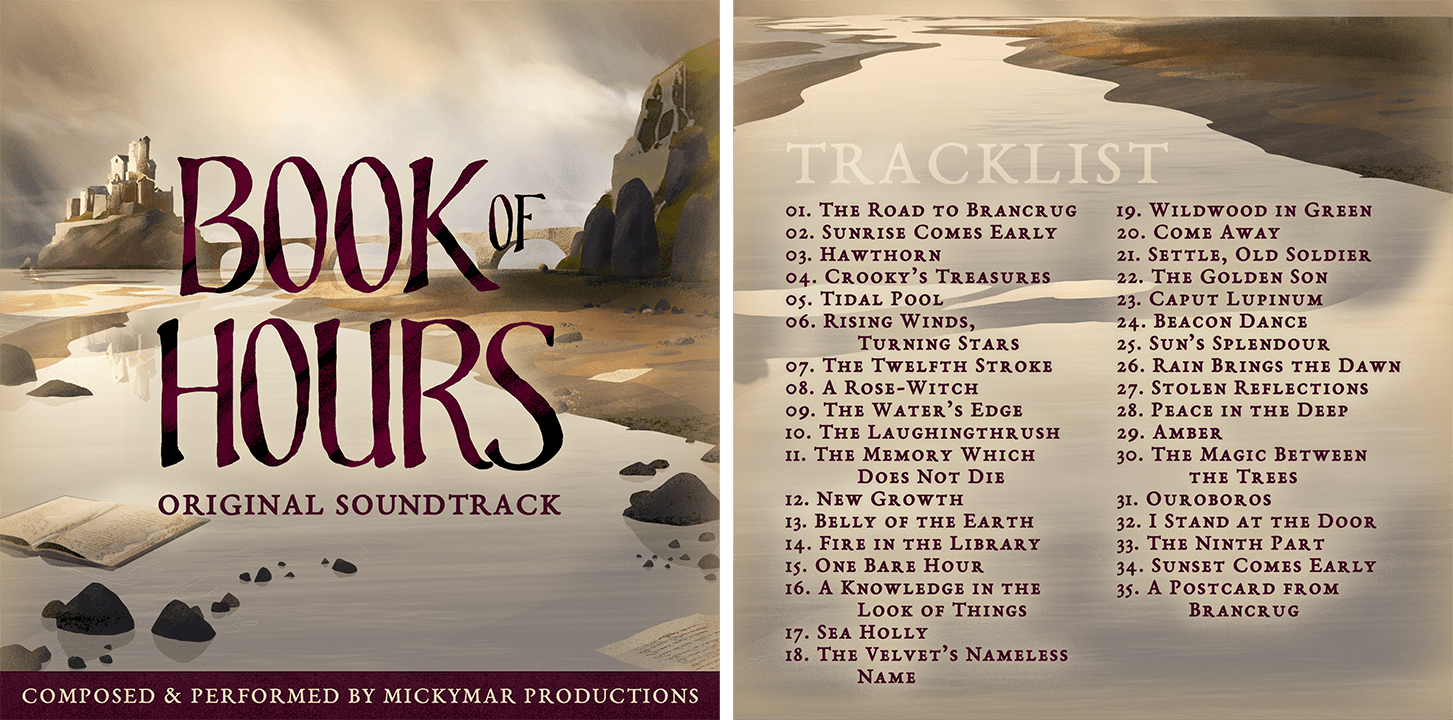 Next up: DAYMARE
BOOK OF HOURS' next update will be DAYMARE, coming to Steam and GOG in the next few weeks. Here are the confirmed headline features so far – there may be more but these are definite!
Mail ordering some items (from Cater & Hero, and from TRN Ltd). Ordering from a catalogue will be a baroque and leisurely process. It'll reinforce Brancrug's remoteness, and it won't be trivial to top up supplies. But it'll fill some gaps and it'll add some flavour.
In-game shelf labels! The Skolekosophy section? The Possibly Contaminated section? Unconfirmed Crafting Recipes? Useful Memories (though the book/Memory system may be coming up for a change)? Notes to yourself about who Janus is and who Hendrick was?
Some UI refresh stuff – e.g. what Lottie refers to as 'spiffing timers' to make workstations a bit prettier
Some more zoom tuning (restoring simultaneous arrow key movement and zoom-to, and I'll look at the zoom levels again)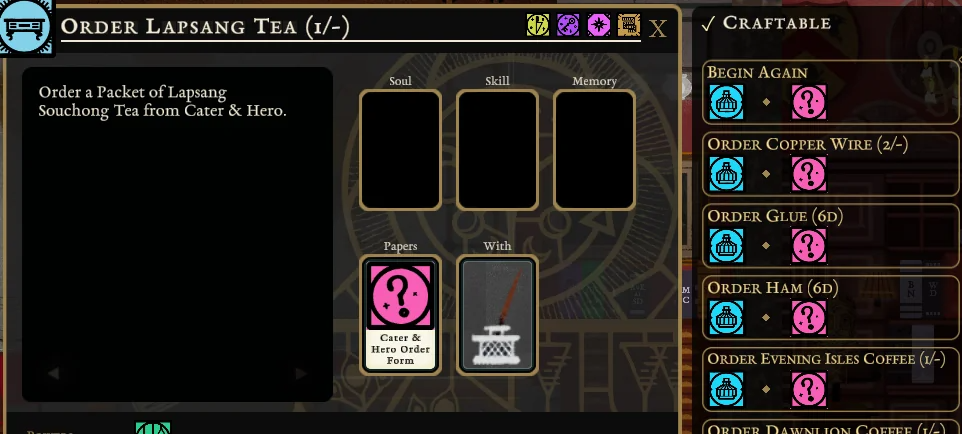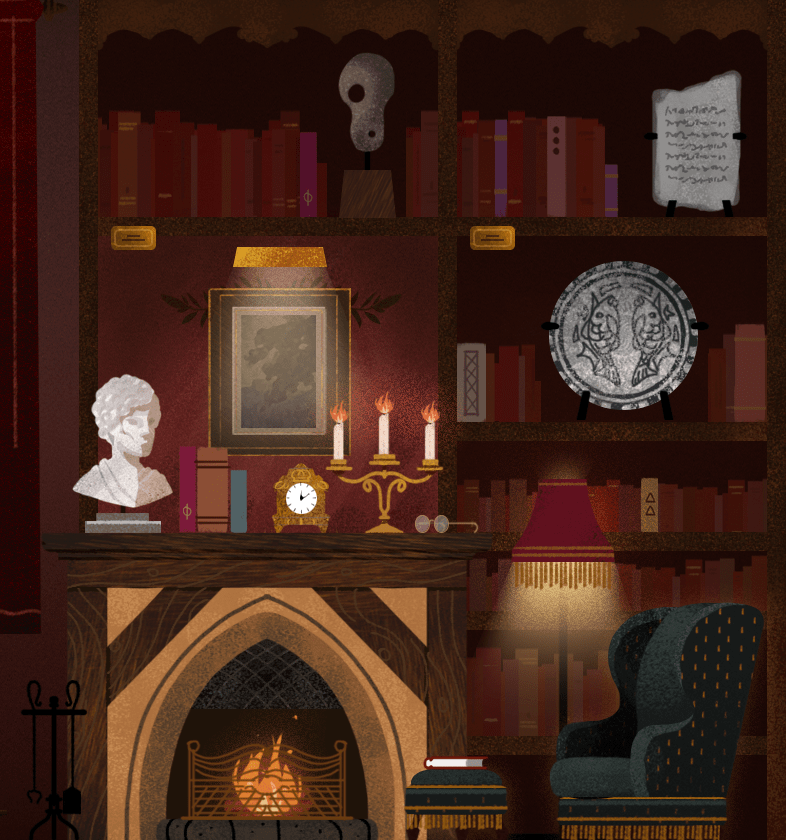 (WIP! Please do not take as the Final Thing.)
Once DAYMARE is live, we'll focus on BOOK OF HOURS' first content expansion (to confirm, this will be paid DLC that's free to anyone with Perpetual Edition). But you may still see some updates while we're working on that, and before the year is out we should have more details on what exactly will be included in this first new content update. For now, please go enjoy the spookiest day of the year. Perhaps with a nice tisane.