JANUARY #1: ANCIENT MARINER

That's right, people, WE'RE BACK ON THE 'A's! Happy 2019 and may the great glow of the Glory pierce your dreams this year.
We are, of course, all
over Christopher, and we announced the actual release date earlier this week: Christopher's Build and our dreamy soundtrack will be available on Tuesday 22nd January at 11AM PDT / 7PM GMT. That's only two weeks away! Start making arrangements now, because fighting the Long is hard.
This has been Alexis's focus for the past month, laying the tracks for these four Long to frustrate your Great Work. The Long can attack you in one of four ways:
physical assaults, whether that's a direct assassination attempt, picking off your Followers one by one, or smashin' up your equipment in a mean and blackguardly way;
Dream-delving Mansus attacks, which may curse you, or set the Wolf upon you, or slyly contort your very cards;
schemes to damage your reputation, help your real-world enemies, or drive you into financial ruin (watch out for the dreadful 'Paper Snare');
biding their time to increase their knowledge of your strengths, weaknesses and habits, all to hurt you the more when they finally choose to act.
You can send Disciples and summonings to spy on them, of course – but Long are veterans of the House, and are not easily deceived.
"Curses scrawled in black chalk – animals crucified in the garden – fires set in unwatched houses. The lesser moves of a secret war."
Meanwhile, I've been working on a bunch of Apostle-related assets…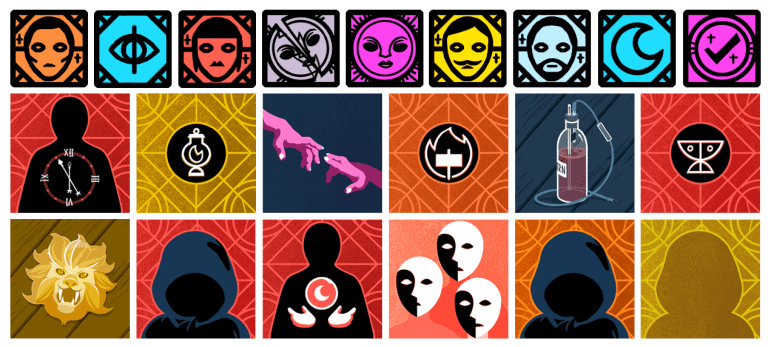 …and some ads which I HOPE some of you might see, around in the week we launch Christopher…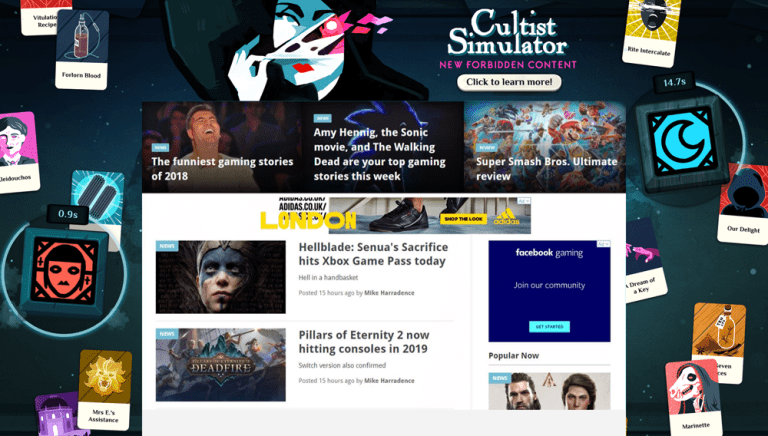 …while our beloved Catherine Unger, who directed Cultist's original art style and is responsible for our various hero images (Iris, the Mansus), is drawing a few rather special pieces for Christopher's Build that we'll reveal in the fullness of time. STAY TUNED TO OUR TWITTERS, EVERYBODE. 🕵️‍♂️🕵️‍♂️🕵️‍♂️
Claire is still helping us with all that marketing jazz which lies, coiled and gleaming, around the skeletons of games, while Chris has been trucking along with various UI and UX improvements, most notably a high-contrast option for better text readability, as well as (gasp!) improving card placement on the tabletop, so your carefully curated sigil of Ezeem isn't sent into card-surfing chaos when one card drops in the wrong place.
Coming up, we have:
our scheduled design stream on Thursday (17th Jan, @ 4PM GMT), where Alexis will talk LOCAL VS GLOBAL, a.k.a. the new global criteria mechanics he introduced recently in beta
a launch-day broadcast of the new Apostle Legacies with Systemchalk, one of our tame streamers, on 22nd Jan @ 7PM GMT / 11AM PDT (this is live, and will appear on our Steam page, and we can't record it so BE THERE OR BE FOREVER BARRED FROM THE HOUSE)
this month's Coven Club, where a bunch of lady developers rock up and drink prosecco with me in central London. Woot!
I leave you with news that Sulochan is currently snekin' out on my feet. See you on Tuesday 22nd January for IMPOSSIBLY DIFFICULT NEW GAME PLUS, Believers! ♥