The Lady Afterwards: Boxed Edition OUT NOW… again!
Just a short post to say…………………..
🎉 THE LADY AFTERWARDS: BOXED EDITION IS BACK IN THE CHURCH O' MERCH! 🎉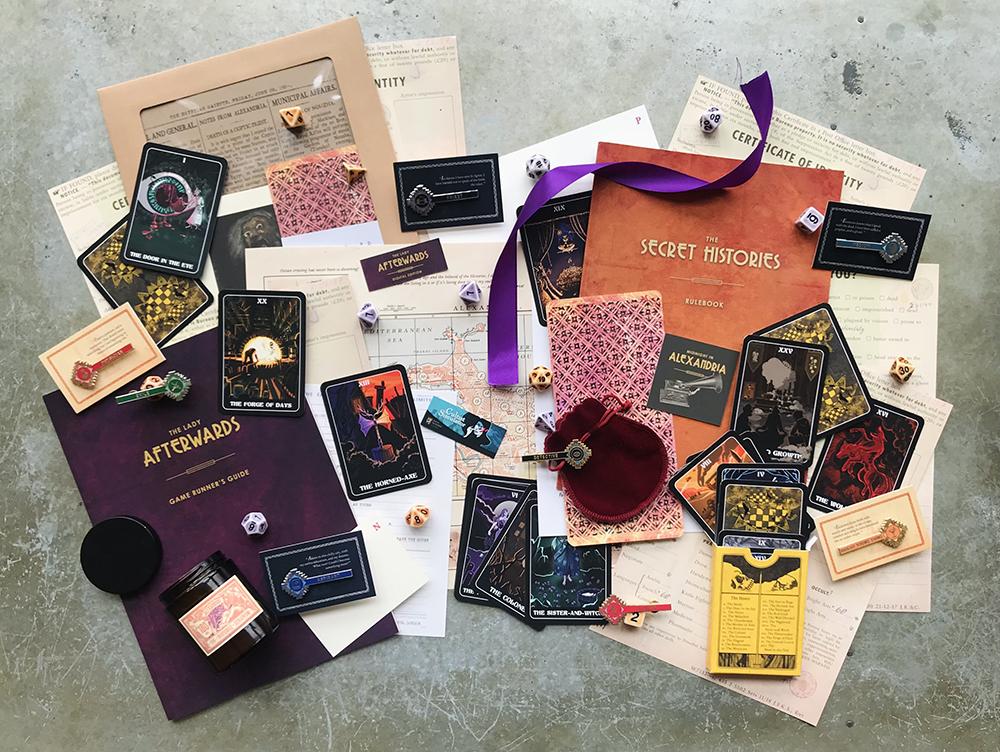 The luxury, boxed physical edition of our non-linear, combat-light, story-centric Secret Histories TRPG is an occult Egyptian noir inspired by classics like Chaosium's Horror on the Orient Express. It contains everything you need for several evenings' occult entertainment with friends (and/or cultists), including:
The Lady Afterwards Game Runner's Guide, a ~50 page TRPG scenario set in 1920s Alexandria
The Secret Histories Rulebook, a ~30 page mechanics primer
18 hand-stamped clues, including telegrams, lovers' notes, photographs and more
"The Essential Hours" pocket tarot deck of 23 Major Arcana cards
Eight customisable character sheets with personalised questionnaires and connections
Eight art deco character pins in silver and gold
A Game Runner's Journal to keep track of players, game-states and evidence
A beautifully-scented black opium candle to evoke the Invisible Serapeum
A full-colour A3 map of contemporary Alexandria with real 1920s photographs
Two sets of antique TRPG dice in a velvet dice bag
A year-long 10% discount token for our shop
Access to a custom-built mood-music playlist of 1920s songs
A full digital edition of the whole game

Back by popular demand, we've finally another 1,000 boxes to sell. We'll release them in tranches every Tuesday so we don't sell out immediately like last time, so if you check the Etsy shop and find they're out of stock, just check back in again next Tuesday and you'll probably bag one second time around.
This TRPG is a real labour of love, so thank you to everyone who's bought one so far. <3 <3 <3
We have some more Lady Afterwards news coming up in a few months, but for now, good luck in Alexandria! I leave you with the fun behind-the-scenes tidbit that gorgeous Audrey Leigh Howard – a woman of no importance – is represented in Lady Afterwards as "Goddess of the Silent Screen" Dolores Costello – who just happens to be Drew Barrymore's grandma…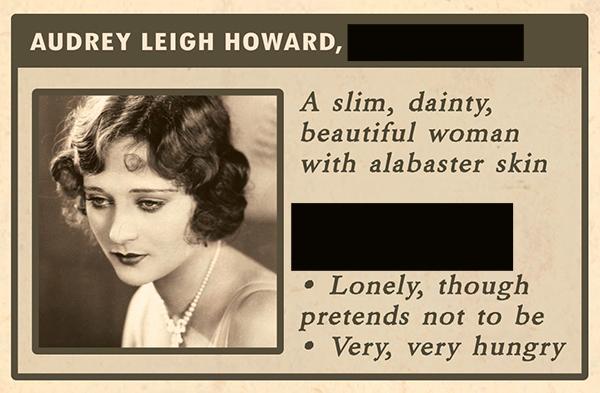 …and handsome Jesse Lewis, the rogueish, devil-may-care Texan who wound up in Alexandria running the Métropole hotel, is represented by fin-de-siecle Swiss psychiatrist Hermann Rorschach, inventor of the hugely influential Rorschach test (and nemesis to all dyslexics who want to spell his goddamn name). Proto-Brad Pitt or what?