MPC x The Lady Afterwards now available!
Just a short post to say…
✨🐫 The Mysterious Package Company x The Lady Afterwards edition is NOW AVAILABLE! 🐫✨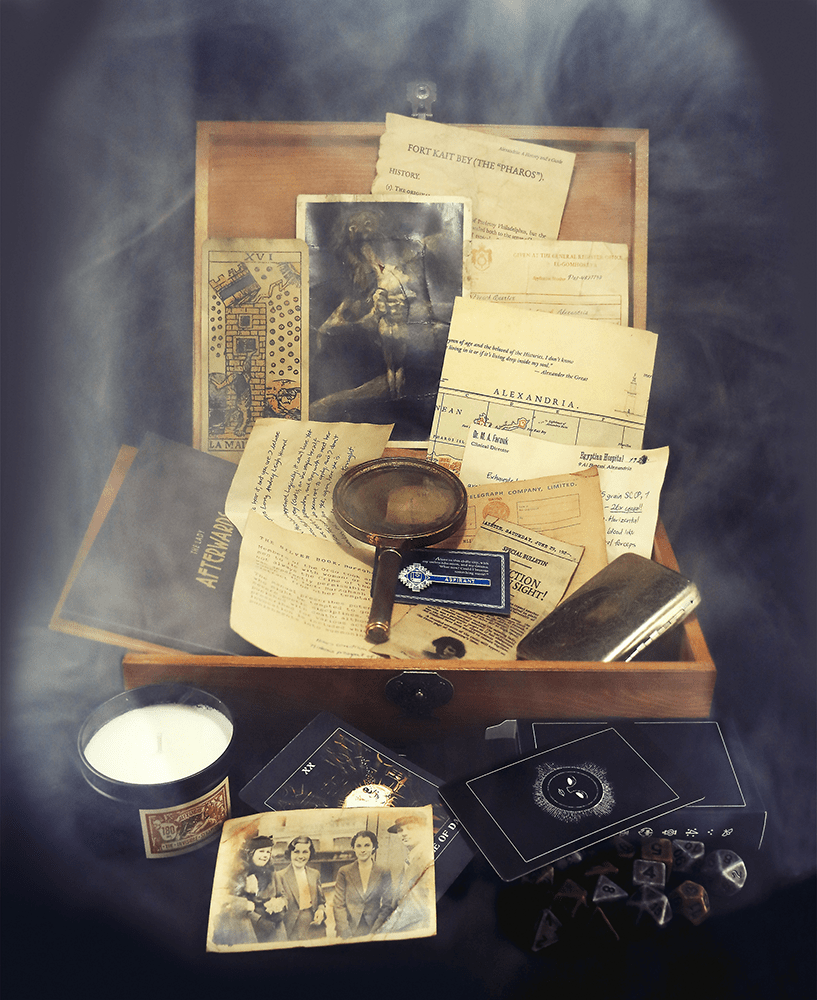 The MPC collaboration builds on our original edition by adding hand-aged clues, a silver cigarette case stuffed with calling cards, an antique magnifying glass and a hardwood "Taurus Express" travelling chest to keep it all in, as well as a few other additions. It's TRULY MAGNIFICENT.
A full list of what's included is:
The Lady Afterwards Game Runner's Guide, a ~50 page TRPG scenario set in 1920s Alexandria
The Secret Histories Rulebook, a ~30 page mechanics primer
18 hand-aged clues, including telegrams, lovers' notes, photographs and more
An antique golden magnifying glass, to inspect them all
"The Essential Hours" pocket tarot deck of 23 Major Arcana cards

A full 78-card "Tarot of the Hours" deck
Eight customisable character sheets with personalised questionnaires and connections
Eight silver and gold art deco pins
A sterling silver cigarette case, including several in-fiction calling cards and clues
A Game Runner's Journal to keep track of players, game-states and evidence
A beautifully-scented black opium candle to evoke the Invisible Serapeum

A full-colour map of contemporary Alexandria
Two sets of antique TRPG dice in a burlap bag
A 10% discount for our merch shop and the Locksmith's Dream
Access to a custom-built mood-music playlist of 1920s songs
A full digital edition of TLA
A custom hardwood "Taurus Express" travelling chest
Eagle-eyed readers will notice that each box contains a 10% off discount for Locksmith's Dream tickets (which now have new 2022 and 2023 dates), but there's also a chance to win a $2,000 "Golden Ticket" giving you and a friend a totally paid-for stay our Secret Histories scavenger hunt in Wales. Alternatively, if you can't make it – or you inexplicably hate Wales – you can opt for a free Mysterious Package Company experience of your choice. Good luck to anyone who buys a box!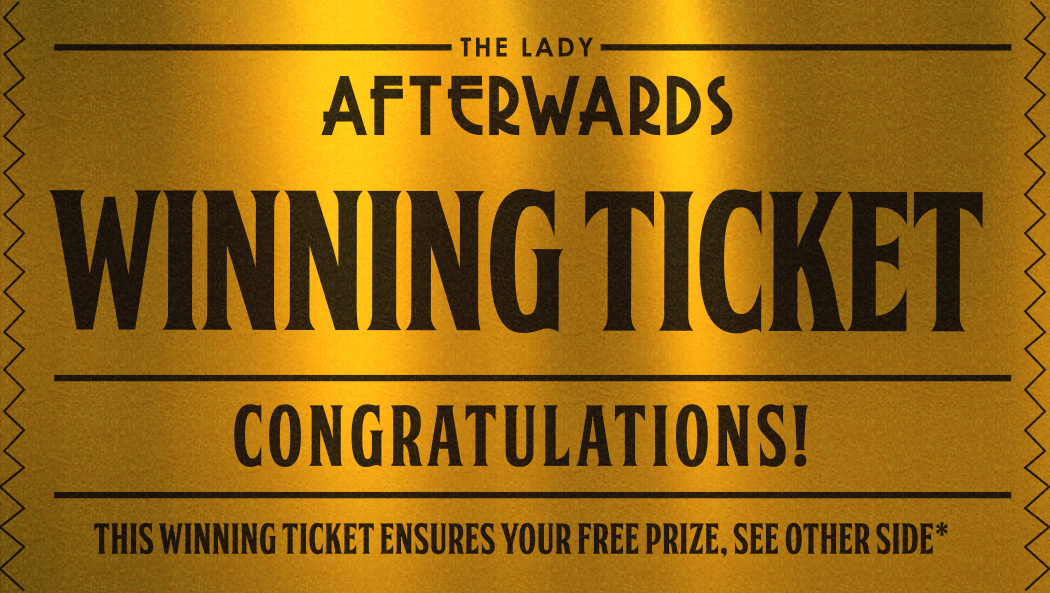 One final thing to share, because I love it. It's a little known fact is that I am actually an accomplished trombonist – this sounds like a joke but I swear it isn't. Anyway, here is not me but a 1920s London Symphony Orchestra musician called Freddie fighting off a cheetah in an example of how The Lady Afterwards' combat mechanics work in The Secret Histories Rulebook. You're welcome.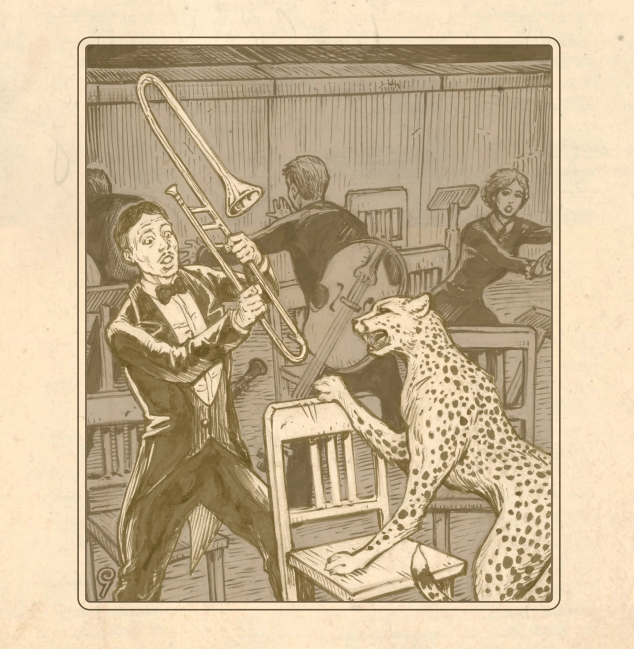 (Art creds to a talented MPC artist called George.)
There are loads more illustrations like this dotted about the place, but I can't share any others without spoilers! Which the Suppression Bureau take a particularly dim view of. So let's not pique the Suppression Bureau.
But speaking of the Bureau, we have a little announcement coming in the next few weeks which should please a number of creative Cultist Simulator fans. We'll schedule an AMA with Alexis and myself to talk about it once we've revealed it, but watch this space…