May #1: JAMES

???????????????????????????????????
So… that's a thing.
We've been working hard, trying to get CS in as sparkly a place as possible while stopping ourselves from going respectively insane. There was a certain amount of
…some rousing speeches…
…and a healthy dose of…
…but SwearTrek (the above, all courtesy of), our community and the fact that we're really, really excited about releasing this game got us through. So, enough trekkin' about! What the hell did you get up to last sprint, Lottie?
We released the Harbinger's Build, followed up with a flurry of patches, and included the Detective Legacy for the first time. At last, the opportunity to put yourself in Wakefield's shoes!
"I have ended the careers of thieves, murderers, blackmailers, arsonists. Some criminals do worse still; and on some mornings, my hands have been known to tremble."
Alexis has added more breadcrumbs, expedition text, tome text, and is generally working to remove the final vestiges of 'this is a development build, go away' from the game (see ya, FNORD). But he somehow also found the time to add a bunch of noticeable new content, including Rite-spells you can now cast to mutate one card to another…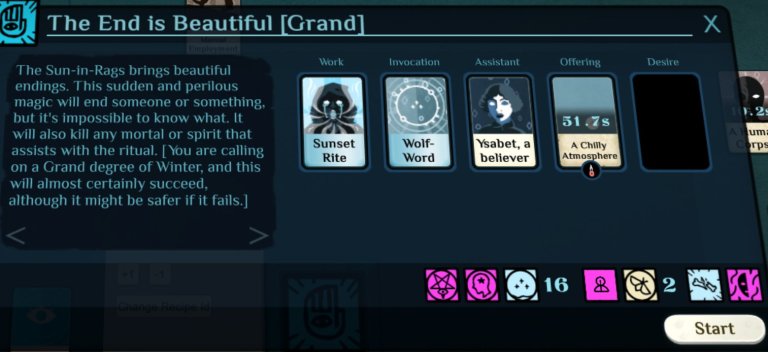 …unique Mansus text, which provides an unusually lucid glimpse into the inner workings of the House, depending on which Principle of lore you chose to enter with…
"Last night I visited the Red Church, where the Grail conducts its feasts. The light through the stained glass windows was all the spectra of red and the Names of the Grail laboured to birth a new desire which had until today no name at all. I am sticky with the memory of it, and this morning everything I see is tinted ruby."
…and an evolved painting system where you can now create Principle masterpieces and forge your own tools. (Look out for an Easter egg somewhere in the painting system, too.)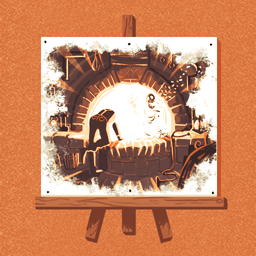 "If the Forge could regret, it would regret the Intercalate, but in all its other work, it knows joy."
All the above is in addition to improved conversations with your Followers, implementing Steam/GOG achievements and SFX (both works in progress!), running a very lovely Discord AMA, and adding new investigators (one of whom currently looks like you're being hounded by Helena Bonham Carter, I'm delighted to say).
Aside from the incredible machinations of my co-founder, we invoked Chris again to help fix some UI/UX issues, and we are actually summoning Martin from Germany to our flat in London next week, so he can help put the final polish on the game before we go live. This means we've finally buried issues like timers resetting on load, Damning Evidence not being recognised as a subject of a conversation, responsive wide Rite windows, a much less buggy Mansus… The game is noticeably nicer to play now, so good job Team QA.
I worked on a number of new aspects and elements, alongside Clockwork Cuckoo who are sending me their final batch of pre-release icons for CS as I write!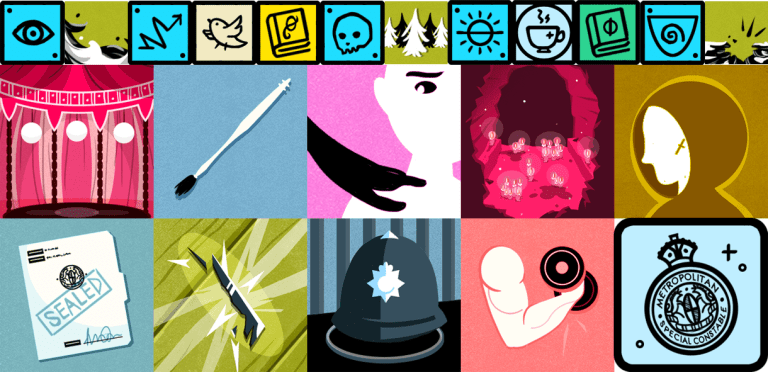 And, as you may have seen if you've been following our Twitter, we released a number of never-before-seen Hours cards this week, thanks to Sarah! The Wolf-Divided seems to have caused a particular stir, but I only have that on the word of the Vagabond, who – between you and me – I wouldn't recommend you believe.
Next sprint is our final before launch. We'll be hosting a Reddit AMA on the 31st and livestreaming the actual pushing of the button at 7PM BST / 11AM PDT, so watch our social media for details! If any of you want to help, we'd really, really appreciate you leaving a Steam review as soon as we're live, and telling all your friends about it – but we'll message more about that in the near future, too.
I leave you with the image of myself sitting here, surrounded by small black boxes with Iris's laminated face on them, with 600 more boxes waiting for me in Bacchanalian abandon across the hall. These are, of course, Kickstarter backer goods, which I hope to send out next week – but more on that
when they are in the post and winging their way to you all. SO CLOSE NOW, BELOVEDS.