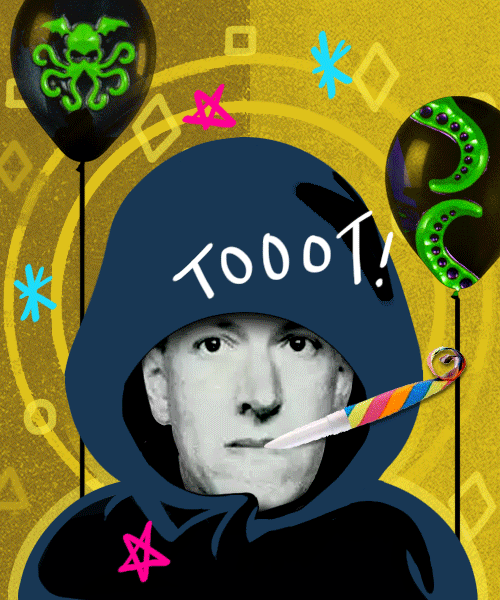 Cultist Simulator giveaway for Lovecraftday!
It's HP Lovecraft's birthday on Monday 20th August, and as Cultist Simulator is a non-Euclidean child of Lovecraft's cosmic horrors, we thought it'd be nice to throw a PARTY.
Starting today, we're running a giveaway across all of our main social media (Twitter, Facebook and Instagram) where you can win any of the following…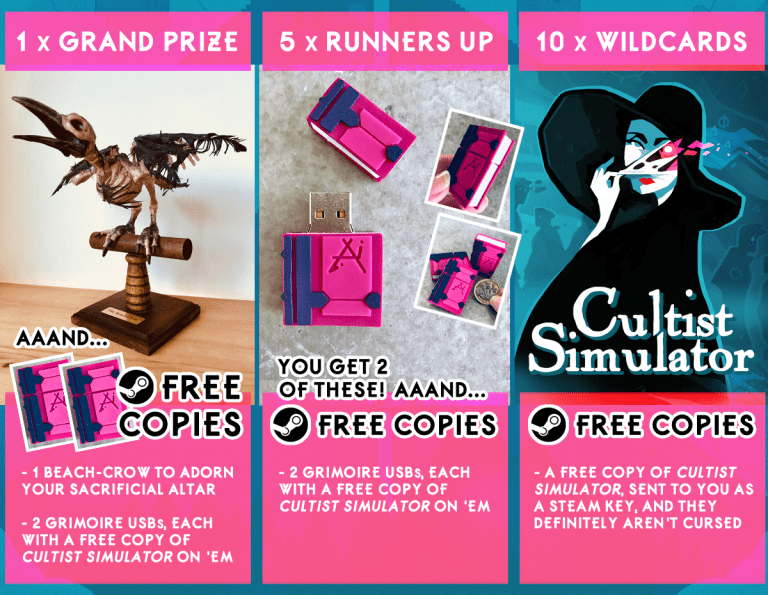 To enter, follow the instructions on one/all of our social media posts: here's Twitter's, here's Facebook's, and here's Instagram's. And I can confirm: the Beach-Crow is called Percy.
Remind me what the prizes are again?
THE GRAND PRIZE includes your very own BEACH-CROW (also known as everybody's favourite Malevolent Skeletal Companion), a resin statuette sitting at ~25cm high and a delightful companion for all dark, forbidden deeds. You'll also get two grimoire USBs, each containing a Steam key for Cultist Simulator. What else do you need to found your own society?
5 RUNNERS UP will get two 1GB grimoire USBs, each containing a Steam key for Cultist Simulator. Keep one yourself, and give the second away to your first initiate! Or, keep both, because you're the cult leader here so you make the rules.
10 WILDCARDS will get a free digital copy of Cultist Simulator, presented as a Steam key! SEIZE FORBIDDEN TREASURES; SUMMON ALIEN GODS; FEED ON YOUR DISCIPLES. All for 0 Funds, thanks to Lovecraftday.
How long does the contest last?
It starts now, on Monday 13th August 2018, and will run until midnight (UK-time) on Lovecraft's birthday, Monday 20th August 2018.
How do I enter?
The rules vary slightly from platform to platform, as they all selfishly have their own terms of service. Typical.
TWITTER: share this post and follow the Weather Factory Twitter account (@factoryweather)
FACEBOOK: comment on this post and like the Cultist Simulator Facebook page (@cultistsimulator)
INSTAGRAM: tag three likely cultists (read: friends) on this post and follow the Weather Factory Instagram account (@weatherfactory)
Who's eligible?
Everyone over the age of 16! Not because we hate children, but because cults are bad or whatever and we don't want to scare any kiddies.
I follow you on multiple social media platforms. Can I enter multiple times?
Yep! If you follow us across Twitter, Facebook and Instagram, you'll technically have three shots at winning something. And if you really want to maximise your chances, cajoling your friends into entering gives you a particularly good chance for a USB (the winners of the grand prize and the USBs each get two USBs, one for themselves and one for a friend).
Does it matter where I am in the world?
No! I mean, I'll have to pay more postage if you win the Beach-Crow and you live in Australia. But provided you have a physical address for shipping, this competition's open internationally.
When will the winners be drawn?
We'll announce the winners by the end of next week (Friday 24th August). Keep your eyes peeled – we'll post the winners across all our social media channels, so you can't miss it.
Do you have any legal stuff you are required by law to state in writing?
Gosh darnit, you know, I do. We're sharing our giveaway on our official Twitter, Facebook and Instagram pages, but this promotion is in no way sponsored, endorsed, administered by and/or associated with any of those companies. Phew!
I still don't understand something. Help!
ALL SHALL BE WELL! If you still have questions about this competition, you can get me on @tronbevan on Twitter, or lottie@weatherfactory.biz for non-Tweeting people. Good luck!