BOOK OF HOURS Giveaway: Win Culty Merch!
It's only ONE WEEK until we launch our BOOK OF HOURS Kickstarter, so we're running a week-long culty giveaway where you can, er, win outré, fiendish things. Ain't no party like a library party, right?
You can enter via Twitter, Facebook, Instagram or all of them, to give youself a better chance of winning! Here's what's up for grabs…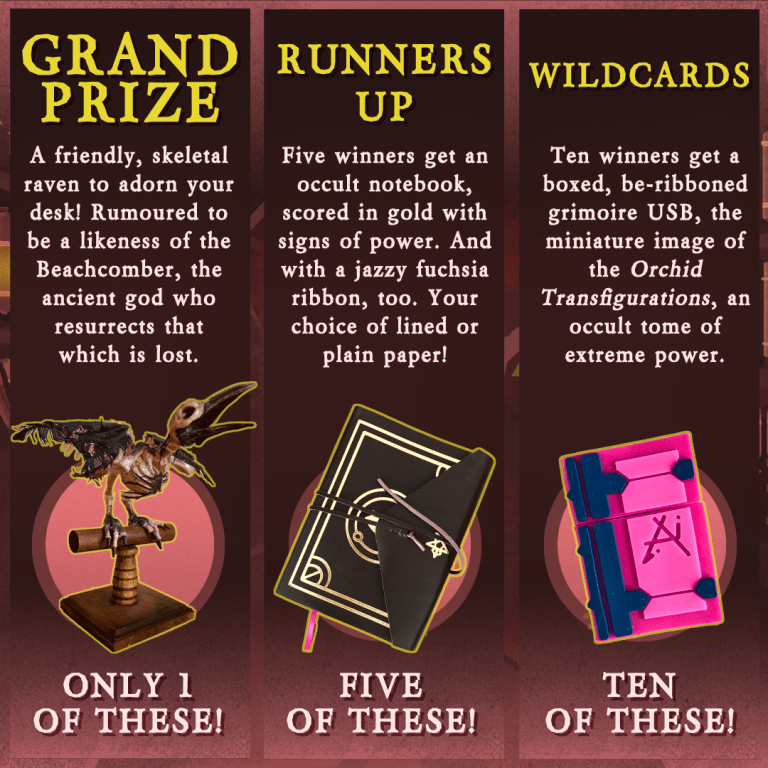 🦉 THE GRAND PRIZE: one person will win their very own friendly corvid companion, who also happens to be a bit goth. He's a resin statuette sitting at ~25cm high and makes a delightful companion for all late-night codification, indexing and labelling.
📔 RUNNERS UP: five people will win a cultist's notebook each. It's a wrap-around real leather journal with gold sigils embossed on the front, back and spine, and with an extremely occult pink ribbon. Choose between lined or plain paper on the inside!
🧙‍♀️ WILDCARDS: ten people will win a 1GB grimoire USB, made in the likeness of the Orchid Transfigurations, an ancient and powerful text written in the language of witches. You don't have to put witch stuff on it, though. Not unless you want to.
HOW LONG DOES THE CONTEST LAST?
One week. The competition starts at 12PM BST on Tuesday 27th August 2019 and ends at 12PM BST on Tuesday 3rd September 2019, when the BOOK OF HOURS Kickstarter begins.
HOW DO I ENTER?
The rules vary from platform to platform, as they all have their own terms of service which I must abide by to avoid being sued.
WHO'S ELIGIBLE?
Anybody over the age of 16. Simples!
CAN I ENTER MULTIPLE TIMES?
Yep! If you follow Weather Factory across Twitter, Facebook and Instagram, you could enter yourself three times into the draw. That's triple your chances of winning… 🤩
WHEN ARE THE WINNERS DRAWN?
The competition closes at noon on Tuesday 3rd September, so we'll pick our winners that week and announce them the week after. Stay tuned to find out if you've won!
DOES IT MATTER WHERE I LIVE?
Nope! We'll happily send your USB, notebook and / or benign zombie raven anywhere in the world.
DO YOU NEED TO SAY ANYTHING LEGAL, TO AVOID THE AFOREMENTIONED POSSIBILITY OF YOU BEING SUED?
As luck would have it, I do! This promotion is in no way sponsored, endorsed, administered by and/or associated with Twitter, Facebook or Instagram. We're just using those platforms to host this giveaway.
I STILL DON'T UNDERSTAND SOMETHING. HELP!
Fear not! Simply email contact@dweatherfact.wpengine.com, or ping @factoryweather on Twitter, and we'll sort you out. Good luck!