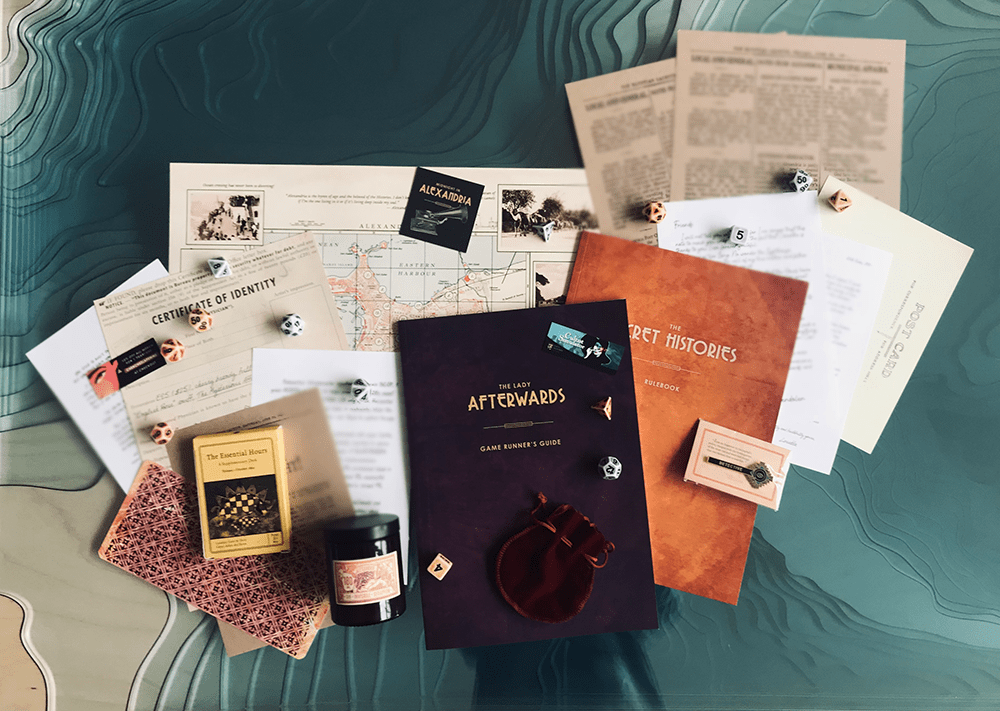 OCT #1: TAMA
Tokyo's Tama Art University Library mixes ancient (classical arches) and modern (concrete; Bauhaus) design. Its high ceilings and simple lines aim to create a calming atmosphere…
…though its seats apparently want to make you AS STRESSED AS THEY POSSIBLY CAN.
ANYWAY. This sprint, AK uploaded a new, semi-Neville-borked build of Cultist Simulator, and wrote a horrible update about "a sort of quasi-digestive self-immolation", because of course he did. We'd appreciate any and all feedback from the GATE_OF_IVORY_ALPHA_UNSTABLE branch on GOG and Steam, sent to support@weatherfactory.biz. Please prepare yourselves for Cultist to do strange things, though it will not endanger your save file.
THE LADY AFTERWARDS LAUNCHING NEXT SPRINT!
We're gearing up for The Lady Afterwards' launch next sprint, on Thursday 21st October at 6PM BST / 10AM PDT. The components are arriving bit by bit and are exactly what I'd hoped they'd be. I wish I could share more of the artefacts and Game Runner's Guide, but here's a non-spoilery group shot instead!
This is about 70% complete: only half the artefact handouts, one out of eight character pins, one out of eight character sheets, a missing one-page Game Runner's Journal and a missing digital download card. I can't wait to photograph the final collection! Especially on, er, a non-reflective surface.
ASK US ANYTHING
We're running an AMA in line with launch, starting on Thursday 21st October at 6.30PM BST / 10.30AM PDT over on the Weather Factory subreddit. Join us to celebrate The Lady Afterwards' release, ask us about That Damned Library Game and wonder at AK's ability to avoid answering lore questions!
We'll keep the AMA ticking over the whole weekend, so if you can't make it on Thursday feel free to leave a question and we'll answer as and when. We'll be back in person on the subreddit on Monday 25th October at 4PM BST / 8AM PDT to wrap the weekend up. A weekend-long AMA!!!! No, we don't have anything better to do with our lives. 🤩 🤩 🤩
MORE DELICIOUS THINGS
We'll have a few fun things to announce when we launch – a freebie, a semi-freebie, a special Skeleton Songs and some news – so keep your eyes on our Steam page and social media. If you're signed up to our mailing list, you'll get it all direct to your inbox. Thank you, invisible and untiring internet mules!
(Fun fact about mules: Alexandria's second-century necropolis, the Mound of Shards, was lost and forgotten in the fourth century. It wasn't until an ill-fated donkey stumbled into the covered access shaft in 1900 that the catacombs were rediscovered. WE SALUTE YOU, UNFORTUNATE FRIEND.)
BE KIND TO UR MIND
AK and I are big advocates for mental health (cf. "Everything is remembered somewhere", "Living with depression that isn't yours", part of Dread in Cultist Sim*), and it's World Mental Health Day this Sunday. So we're donating 100% of our Steam revenue on Sunday 10th October to mental health charity Mind. If you'd like to donate by buying Cultist Simulator for a friend, Sunday's a good opportunity to make a difference!
I leave you with news that no, I wasn't microdosing when I announced naively that the website would be live soon, IT JUST APPARENTLY TAKES LONGER THAN I THOUGHT. Soon WF.biz will be shiny. Today is just not that day.
Get hype for The Lady Afterwards while you wait! I can't wait to hear what you think. ♥
*AK is very clear that Dread is not a simple analogue for depression, though the wolf that devours thought and colours leeching from the world are closely linked to the depressive experience.